Over the past few years, the logistics industry has been witnessing a sudden growth. With the advancement in digital technology, companies are leveraging the latest innovations and thereby evolving continuously. Who would have thought that the logistics and cargo industry would get digitized.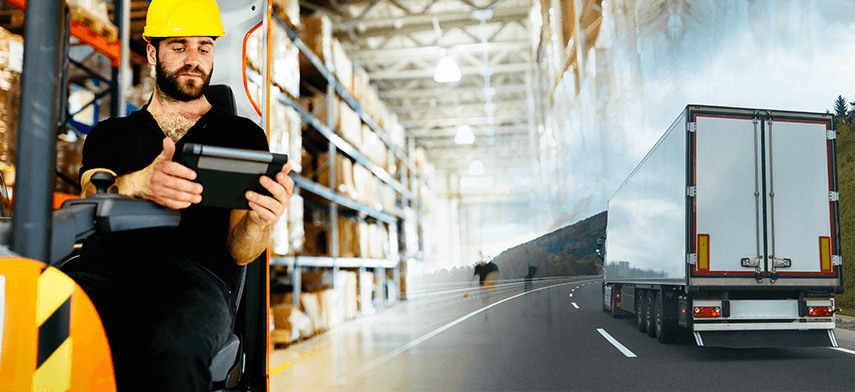 The increasing mobility demand has emphasized challenges like investment, volatile oil prices, and dealing with emissions. Thus, the industry has developed a transportation system that is capable of meeting the future needs of the economy as well as society, all thanks to mobility solutions. Mobility Solutions in Supply Chain and Logistics aim at improving both the efficiency and safety of transportation, combined with enhanced environmental sustainability.
With that being said, in this post, we will discuss how mobility solutions in logistics are transforming the industry. Let's get started.
Why Choose Mobile App Development For The Supply Chain?
With the growing competition and peer pressure from the manufacturing industry, the supply chain and logistics sector need to pick up the speed.
As per various B2B and B2C organizations, the e-commerce sector has a direct impact on customer satisfaction and retention. This suggests that the logistics and supply chain companies need to provide greater speed, flexibility, and reliability to maximize the service levels for the merchants and retailers continuously, as, in the end, online retail is the key driver for business growth.
Let's take a closer look at the key reasons behind choosing mobile development for your logistic business:
A strategically designed mobile application will integrate fleet management solutions that will allow streamlining the entire logistics process, including real-time tracking of goods.

Mobile development helps operators to detect movement of the fleet and provides information about their location.

The supply chain management apps will provide more support to your business in numerous ways.

With features like navigating customers through GPS, finding the best route to a destination become easier via real-time traffic analysis.
Mobility Solutions That Make A Difference In The Supply Chain Business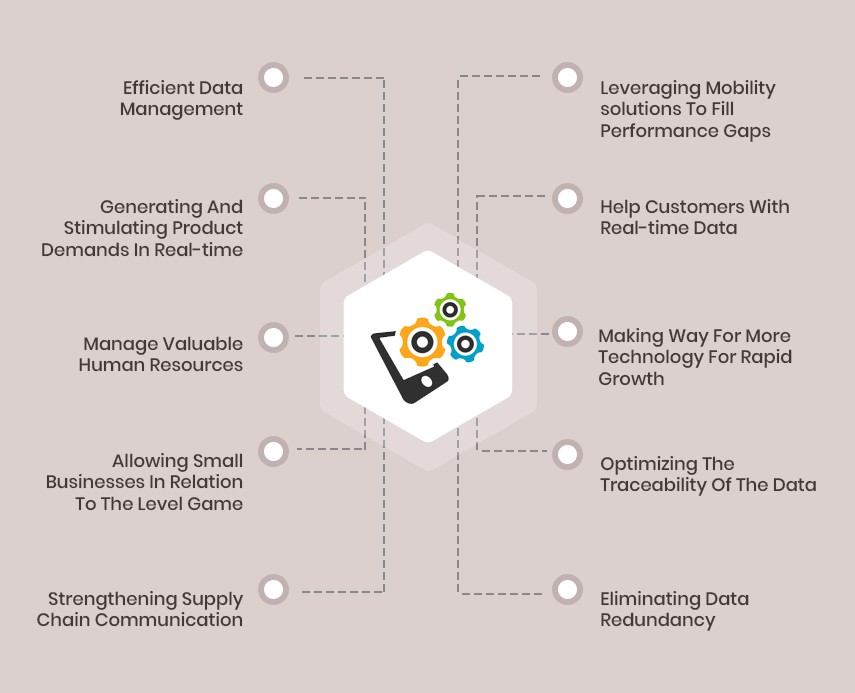 One can capitalize on mobility solutions in terms of optimized transportation networks, higher conversions, and better supply chain visibility. Here are some ways in which Mobility Solutions in Supply Chain and Logistics is making the difference.
1
Efficient Data Management
Supply chain management apps can help companies make use of important data for strategic research and development. With significant demand for supply chain and logistic services, you get a decent volume of business data to analyze and handle. Mobility in supply chain is the primary factor for your company to logically manage the auto-generated data and utilize them for making informative and data-driven decisions.
This will give you a clearer picture of the performance of your business, which you can later analyze to make potential improvements.
2
Generating And Stimulating Product Demands In Real-time
When we talk about the logistics services, it involves a plethora of things, such as packaging, pick-up, storage, maintenance, management, and transportation of the inventory, among others. This is why online retailers are highly dependent on logistics and supply chain companies.
As a result, they are adopting an omnichannel business model in a hope that they will be backed by a logistics company.
Having mobility in supply chain will allow you to address the growing demands. You can leverage this to take your business ahead in the race.
3
Manage Valuable Human Resources
Managing the staff and workers is one of the biggest concerns for every logistics company. With tons of products getting shipped and delivered, it becomes difficult to manage your valuable human resources. With mobile app development for supply chain, you can manage your workers, their tasks, track their location,along with managing the labor costs as well as other expenditures more efficiently.
This allows you to get rid of unwanted expenses, and save a lot on managing staff.
4
Allowing Small Businesses In Relation To The Level Game
In the present scenario, startups and home-based online retail businesses are taking the digital trend more seriously. With the rise in competition, that too at an unprecedented level, it has become important to stay on top of your game.
Having a supply chain management system allows you to develop a customized mobile application that caters to your specific business requirements. From delivery tracking to workforce management, and fleet delivery management, you get a whole range of mobility services.
5
Strengthening Supply Chain Communication
One of the biggest advantages of having mobility in logistics is stronger communication across the supply chain. Gone are the days where due to lack of communication or miscommunication with the drivers, the delivery of products was either misplaced or delayed. Today, with a mobile app, you can integrate your inventory management system to maintain your supply chain. With the help of the app, your entire supply chain team will stay on the same page. Moreover, suppliers can make easy communication with the logistics driver, schedule their next delivery, track routes, and more.
6
Leveraging Mobility Solutions To Fill Performance Gaps
In a logistics business, it is challenging to keep a tab on the entire supply chain process. This is because there are numerous stakeholders involved in it.
In order to simplify the process and keep the stakeholders on the same page, having a mobility solution can help. It will allow you to keep an eye on the inventory received and transported, review the service performance, communicate with the suppliers, and perform other important tasks.
7
Help Customers With Real-time Data
With Mobility Solutions in Logistics, you can provide transparency to your customers. You can retrieve real-time data to help your customers with their queries. Customers can track the shipment, contact the shipping team, make preferences regarding the shipment, etc. all with the help of a mobile app.
8
Making Way For More Technology For Rapid Growth
Timely delivery is not the sole objective of running a supply chain and logistics company. With this comes the responsibility of trying and testing the latest technologies that can ease up the process and provide value to the customers. With mobility in logistics, you will get exposed to the technology trends and design something that can further help the entire industry.

9
Optimizing The Traceability Of The Data
With mobile apps, you can easily trace back the data received from the customer. You can optimize this data to attract new customers and retain the existing ones. It is all about how well you optimize the data because poor use of data can lead to loss of clients and poor business performance.
10
Eliminating Data Redundancy
One of the biggest advantages of integrating mobile technology with your supply chain and logistics company is that you will no longer suffer from data redundancy. You will have all the data needed to make your business flourish in the competitive environment.
Ways Mobility Is Shaping The Supply Chain Industry
Here are some top ways mobility is shaping the supply chain industry.
Influencing The Decision-making Process

Supply chain management app are helping business owners to gather data for analysis, observe business performance, and access dashboard for understanding and responding to changing demands. This has helped them with their decision-making process.

Reduction In Device Costs

With technology getting smaller, devices that embrace these technologies are getting cheaper, as well. With the inclusion of mobile devices, having a highly advanced logistics system is not impossible anymore.

Mobile Trucking And Freight Applications

Mobility Solutions in Logistics have made its way through the truck and freight sector. Now, those who want to improve transportation and mobility should invest in quality trucking apps that can revamp the transportation industry. With this, you can easily contact the drivers and eliminate third-party communication, which ultimately reduces the costing.
Future Of Mobility Solutions In Logistics And Supply Chain Industry
Mobility solutions in supply chain and logistics is truly transforming the industry with the latest innovations. From UAVs for online fulfillment to autonomous mobile robots in cargo yards and warehouses, logistics and supply chain industry is enduring a significant transformation.

According to experts, the industry will lean more on to artificial intelligence and machine learning to make the process self-orchestrated and completely autonomous. A fleet of delivery trucks using an algorithm could increase the efficiency in warehouses and cargo yards.
We will have to wait and see how the industry molds to the latest trends and innovations to shape a better future.
Conclusion
It is time for the mobile app development companies to see the spurge of growth. With almost every industry going digital, the mobile app development sector is going to experience a sudden boom. Mobility solutions in supply chain industry will be a great boom for everybody involved. It will not only reduce the time spent on communication by half but will also cut down the costs associated with transportation.
This makes it the right time to invest in a quality supply chain management system to help grow your business.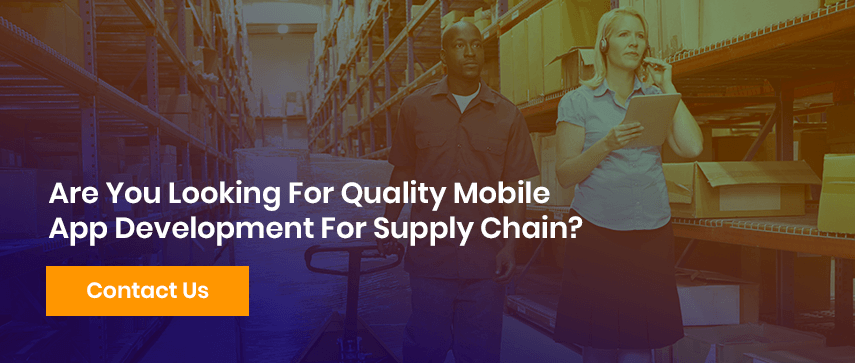 Author's Bio

Nitin Lahoti is the Co-Founder and Director at Mobisoft Infotech. He has 15 years of experience in Design, Business Development and Startups. His expertise is in Product Ideation, UX/UI design, Startup consulting and mentoring. He prefers business readings and loves traveling.