In today's competitive world, it's very important to have a strong grip over yourself – Be it personally or professionally.If you are running or currently a part of a business and have to not only sustain but also grow in the market, then the only way is your conscience, persistence and adaptability to change.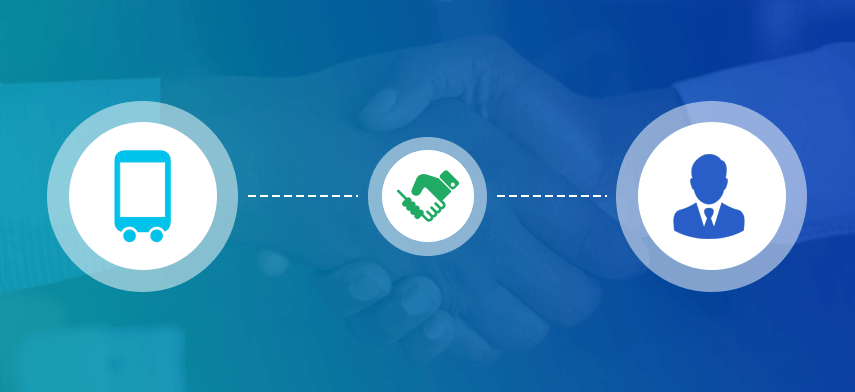 Being a business owner you definitely cannot be a "one man army" and you need a pool of equally passionate team members to take your business to the next level. This team performs a significant role in envisioning and achieving the company goals & common objectives. Be it excelling at what you are doing already or foreseeing the bigger opportunities and threats coming your way, it's imperative to keep your contingency plan ready.
Let us understand a few key areas that any business should consider to think of! Either prior starting up a business or while running one. It's never too late.
1
Competitive Analysis
Inspect what the market is doing v/s what your goal is. Perform a thorough business analysis of your current position in the market. Conduct ample research and come up with a solid and detailed business plan (sample).
If you're not competitive yet, you're not hustling enough. There is a market for everyone, you just need to present yourself well at the right time to the right people. Keep updating your techniques to make your business more advanced, creative and innovative along with multiple revenue channels.
Survival of the fittest! You can be, if you're active.
2
IT
IT is an integral part of most of the companies to run their day-to-day business. You must ensure that this sector is taken care of meticulously. You could have an in-house IT team (could be expensive, if you're a startup/ bootstrapped) OR partner with a company like Mobisoft Infotech who will guide you step by step, right from inception to the maintenance/ management of your services.
Technology can either make you or break you.
3
Operations
Are you overstaffed or understaffed? If you are not in either of these situations, you're doing fine. If not, then you must set proper KPIs and reporting metrics to ensure you're not keeping these critical decisions to be made at the last moment.
Termination stage is not a good sign, alternatively hiring is. If you're ramping up, it's great and that means you are growing. Even though it may feel obvious but many companies fail due to not planning their operations well, and negligence in monitoring their employee delegates on time.
Scaling up is way better when you have planned your forecasts beforehand and achieving them at the time of need. Scalability plans can be discussed at the ideation stage itself and all your "could have" or "good to have" can be planned for the later stages. However, your priority at any point should be "must have" and how to keep up to it.
4
Planning
There are several plans you need to have ready with you if you want to be prepared in this never ending race and stay in the league.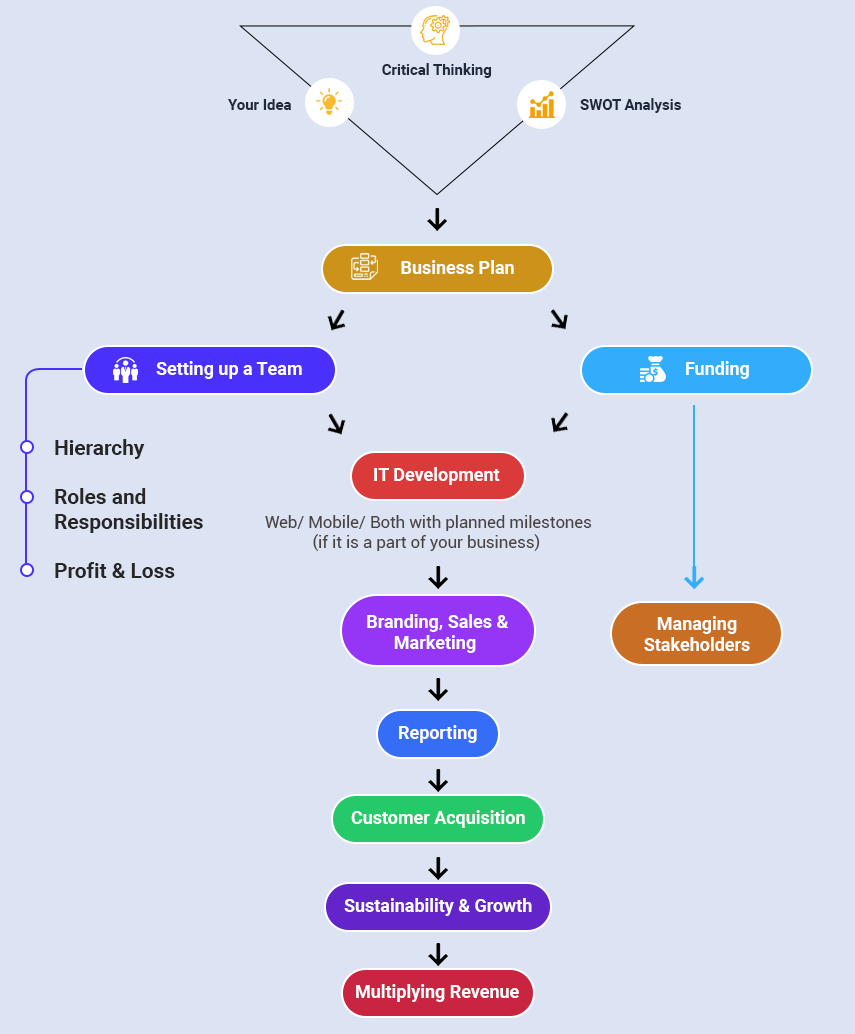 Precaution is better than cure!
5
Payment, Revenue and Accounting
Are all these in place? Go carefully about each one of them and invest a sufficient amount of time to brainstorm for its betterment. Keep a close track of cash-in and cash-out by using CRM tools.
Eventually, numbers matter!
6
Maintain CRM
This is the most important activity from the perspective of sales and overall business administration. It must be regularly updated and reviewed to have flawless and hassle-free business handling. Semi-automate by getting a robust admin panel to manage different stakeholders in your business.
Make your business easy for you by letting CRM take charge.
7
Dependencies
External stakeholders, suppliers, third party integrations, vendors or anything that is not in your control is a dependency.
You cannot control everything, however, it's important to keep track and taking ownership of the know-how.
8
Marketing
This is one of the most important aspects of any business. There are certain situations, out of which you need to analyze your position:
A.
You're only good at marketing and not in delivering the actual products/ services.
B.
You're not that good at marketing but deliver an appreciable product/ service.
C.
You're neither good at marketing nor at delivering your products/ services (critical).
D.
You're doing great in both marketing and production.
The first three are the positions you must think of to grow in a business. It is equally important to be good at marketing as well as delivering the service/product. You can probably not be at the top of marketing and providing good services from day one. However, this is where you need to have a balance maintained to keep up, so you don't go on a wrong path. Marketing efforts are as important as delivering the products or services.
It's a good idea to do give traditional ways a shot if your budget permits. For example, marketing through TV, radio, handouts, and newspapers.
Apart from this, digital marketing is always there to cover social media, newsletters, and blogs which are among the best ways to stay connected with your prospects/ clients. As you know your target audience, be the best judge of the social platforms you are planning to leverage for your content and campaigns. Instagram, Twitter, Facebook, LinkedIn are some of the well-known platforms to choose from.
You will be unable to market yourself well if you don't provide good services and vice versa.
9
Customer Feedback and Survey
This is something that every business owner must work on. Various companies of different sizes have multiple innovative ways to perform this task. Make sure to conduct this activity on a regular basis to track business behaviour.
It's like waiting for your results after the exam. And like those weak subjects, it is wise to work hard on them to improve your score next time.
Their negative reviews should be your urgent, immediate and top priority. If left unrecognized or unaddressed, you will certainly regret very fast and evanesce really soon.
Failing is good, fail fast and learn faster to get up and get going.
10
Sales
If it's not a no-profit business and you're not generating revenue, then you're not in the game. You must ensure that you have aligned your sales with your company's goals and revenues. Making a sales plan, following or tweaking them based on achieving your forecasted revenues is a good practice. Have targets in place – if you're unable to achieve them then revise your business & revenue models. Keep revising them to understand which model suits you the best.
You're not responsible for your client's budget, but your price.
11
Training
This is another important aspect for a business of any size. You may have multiple stakeholders in your business and have different ways to deal with them. Educating both your internal as well as external stakeholders is very important. This could be about your product/ service, support staff, managing the whole backend, etc. Everyone involved should clearly know their responsibilities expected from them and how it can be achieved. Creating standard process documents, business templates, and cloud-based learning repository are simple yet powerful ways. If you're an industry giant or SME then LMS is a great option for you.
Idea is for everyone to be on the same page and making it simple for all the stakeholders involved.
12
Offer, Promos, Discounts, and Campaigns
Data is everything. Without smart analytics, it will take more time for you to realize the marketing strategies that would work for you. Work on wonderful promotional activities, to gain more attention and avoid being monotonous. Respect the loyal/ valued customers and work on the "out-of-the-box" reward program.
Consult and assist your prospects or clients with genuine & best possible ways. It does not matter how long it takes, but being consistent is definitely needed.
Create interest in your audience to excite them, show curiosity in knowing their problems, so they would be willing to use your services than compared to others. Satisfy them by providing an exceptional service so they would remain loyal to your company's service or product and trust you for a longer run.
Convert your leads into relationships than businesses.
13
Communication
There shouldn't be a time when your customers feel unheard. This could lead to losing a client which also includes factors such as revenue leakage, lack of skills, negative customer service, etc. This leaves a huge scope for more self-improvement and strategizing the revenue goals.
There are various tools available in the market like Basecamp, Zoho, etc. which can help you maintain this with great convenience. This way you can keep your communication on a validated system where all the stakeholders are involved.
Communication is everything. Keep your customers informed.
Wrapping up
There are a lot of areas where Mobisoft Infotech can be of a great assistance to your business. Our motto is to consult you in the right direction by providing various options and alternatives at each stage. We believe in mentoring you to create a success story together and empowering you to ensure that you have the expert person to handle and optimize your technology.
We can take care of your entire technology, enabling you to spend more time on your business side of it. With less manual efforts automatically your productivity will get optimized.
We would love to chat with you and ready to give you a free consultation through one of our sales experts at your convenience.
You could be a Government body, Private Organization, Startup, SME, Enterprise expert in Transport, Healthcare, E-Commerce, Educations or any verticals across the world, we can be your superpower IT team.
Send an email to info@mobisoftinfotech.com, business@mobisoftinfotech.com
We are Mobisoft Infotech, we have got your back!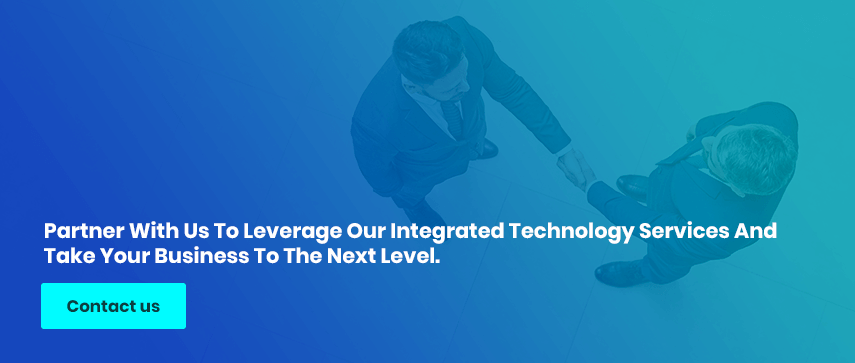 Author's Bio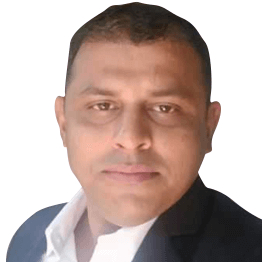 Swapnil Ghone is the Director of Key Accounts at Mobisoft Infotech. He has more than 16 years of experience in Customer Services, Management, Training, End to End software development and Business Development. His expertise is in IT Consulting, providing innovative solutions to Startups, SMEs and Enterprises. He loves traveling and meeting new people.'