A medication error can be defined as any preventable episode that may cause inappropriate use of medication that can harm patients, even being under the control of a healthcare professional. These events can be due to professional practices, procedures, healthcare-related products, and systems that include order communications prescribing errors, monitoring, dispensing, and more.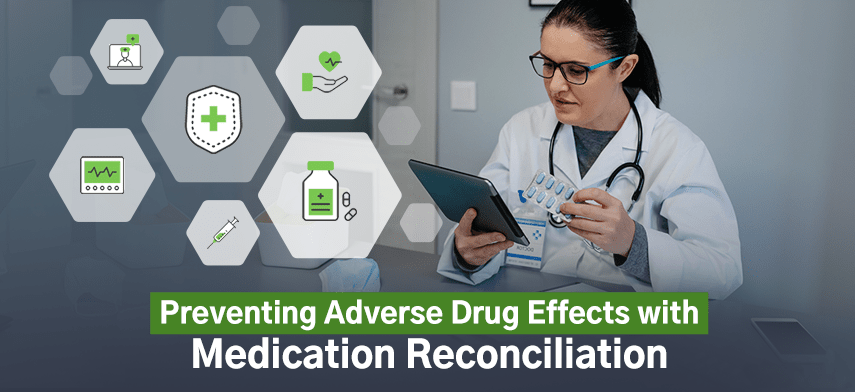 Medication errors are prevalent and amongst the most common medical errors that harm nearly 1.5 million people each year. The excess cost of treating injuries occurred through drug-related problems in hospitals incur at least USD 3.5 billion yearly. The safety of patients is still a major health concern. The Academy of Managed Care Pharmacy (AMCP) has identified the importance of this concern and is helping to support programs that aim to prevent medication errors and understand the need for medication reconciliation.
Medication Errors Caused Due to Transition of Care
The errors are not always confined to hospital settings. Patients can have several doctors, specialists, and prescribers, and the lack of communication amongst these providers can cause medication errors. Some of which include:
1
Incomplete drug history reports during admission
It has been often observed that drug reports and histories are incomplete, the dosage or the drug names may be missing from the reports, and over-the-counter medicines which are non-prescribed are omitted. Hospitals and healthcare facilities use this medication information for treatment and tackling adverse medical events throughout the patient's stay. The erroneous drug usage histories lead to the discontinuity of inappropriate therapy, discontinued treatments, and failure to detect medication-related concerns.
2
Recording patient medication for admission
The process to record medication histories is obsolete and has been discussed as inadequate. It can be potentially dangerous for patients who require immediate improvement for their medical causes. This can cause immense backlash when considering medication reconciliation for inpatient treatments as well.
3
Medication prescription during admission, transfer, and discharge
There can be errors on a patient's medication chart when there's a transition to care. It can happen during admission to a hospital, transferring from emergency departments to other units, transferring from ICUs to the ward, and transferring from hospital to home like senior care facilities. Senior patients have several prescribed medications and they are most affected by the errors in medication. Medication omission is listed as the most common unintentional problem and can go unidentified before they affect patients' health.
What is Medication Reconciliation?
Medication reconciliation is termed as the process that is designed to improve prompt teamwork and communication. The main objective of the medication reconciliation process is to reduce the medication errors during the transition to care and maintain a care coordination continuum throughout. The importance of medical reconciliation lies in the fact that it is a formal procedure that assists to obtain, verify, and document an accurate list of medications of patients and comparing it with the medicines during admission, transfer, or discharge.
The medication protocol also identifies and resolves medicine discrepancies and verifies the information before there is a transition of care of the patient to the next provider. This information consists of various changes made to medicines during their care transition. Medication reconciliation is based on safety principles and has independent checks by different providers as a key step to the steps included in this process.
Steps Necessary for Medication Reconciliation
There are necessary steps to be taken when the medication reconciliation process is involved. They include:
1
Developing the list of current medications of patients
The first step is of crucial importance and it is also one of the most challenging steps in the medication reconciliation process. The documentation of the patient's current medications is critical especially involving the dosage, route, administration, and frequency. Having even one of these omitted from the medication list can lead to a risk of adverse reactions. It is important to have the current list of medications handy to avoid such situations and have it recorded in the electronic health records (EHR).
2
Developing a prescribed medication list
Developing a prescribed list of medications may seem easy, but curtails possible errors. When developing a prescribed medication list, errors like illegible handwriting, incorrect drug selection or suggestion, and oral prescription transmission to avoid similar-sounding medicines can be avoided without rushing to develop the list.
3
Comparison of medications on the lists
This is the reconciliation step in the health care reconciliation process. The comparison list assists to avoid any discrepancies including omitted medication. It helps to identify and understand the problems with dosing errors, drug-disease interaction, therapeutic duplications, and more.
4
Making clinical decisions with comparison list assistance
Another step in the medication reconciliation protocol where medication decisions need to be precise, and inadequacy has no room to rush the process. The aspect of medication management required providers and staff members to accurately make clinical decisions based on the medication reconciliation process.
5
Communicating medication reconciliation list to patients and providers
Once the preceding medication reconciliation process steps are completed, the final stage requires to be thoroughly communicated to both patient and providers. Patients are usually handed a revised list of medications. The revised list is communicated to the appropriate provider to reduce future shortfalls for medication reconciliation post-discharge.

Best Practices Improving Medication Reconciliation
Since we have covered the steps that can be implemented for the medication reconciliation process, let us delve into some of the best practices.
1
Begin medication reconciliation process before patient's admission
Before a scheduled visit or a surgical procedure, send a reminder to the patients to confirm their appointments via texts or phone calls. Ask them to bring their current list of medications. Hospitals and healthcare facilities can also provide a prompt patient portal to request patients to review their medication lists before the appointment. Conducting a medication list review via telehealth appointments can be considered before in-person visits.
2
Pharmacists in-charge of medication reconciliation
Often observed that adverse effects of drugs are reduced when pharmacists assisted by registered nurses opt for medication management, hence providing a sharper contribution to the medication reconciliation process. Pharmacists are well equipped with distinct knowledge and skills that are qualified to maintain the process of medication reconciliation across the population health systems.
3
Dividing medication reconciliation tasks
It is important to rethink medication reconciliation tasks and divide them amongst staff and hospital members to reduce the rushed processing of medication management. Having the process divided can help to put together medication information correctly in the EHR system and offer better data to providers for further review.
4
Involving patients in the medication reconciliation process
Patient education has been considered as a mandatory aspect when it comes to a human-centered approach for health care reconciliation and services. Communicating to patients the importance of medication reconciliation and offering their providers an accurate and current list of medications can be greatly improved with their involvement. When medication lists are not reviewed before an appointment, the EHR system consists of the reports and it can be printed and reviewed by the patient at the hospitals and health clinics.
Wrapping Up
Medication reconciliation is an important aspect for providers, hospital systems, and patients. It can improve the quality of life patients lead by providing them with proper medications. As mentioned, the transition of care can factor in cause medication errors, hence, it is important to continuously monitor the medicines that have been prescribed as a step in medication reconciliation post-discharge. Providers maintaining the medication list during admission, transfer, and discharge can help patients to identify and understand their medication requirements.
Medication reconciliation enables patients to keep a track of over-the-counter medications that may or may not be included in the medication list and help them to be more involved in their health-related matters. Hence, medication reconciliation protocol is a crucial benefit for healthcare providers and administrators for better understanding the needs of patients and incorporate better medication protocols for enhanced health outcomes.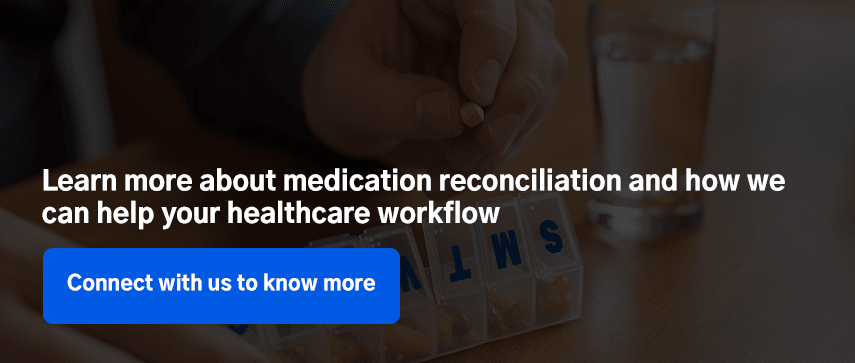 Author's Bio

Shailendra Sinhasane (Shail) is the co-founder and CEO of Mobisoft Infotech. He has been focused on cloud solutions, mobile strategy, cross-platform development, IoT innovations and advising healthcare startups in building scalable products.