Hospitals and other healthcare facilities have to welcome everyone with open arms as they are providing a public service where it's unethical to turn anyone away. It consists of the patients admitted there or visiting the OPD, friends, and family visiting ailing patients, people coming to fix a doctor's appointment, someone going to the pharmacy to collect a dose of antibiotics, vendors coming in with supplies, salespersons from pharmaceutical companies, temporary workers, contractors…. the list is endless!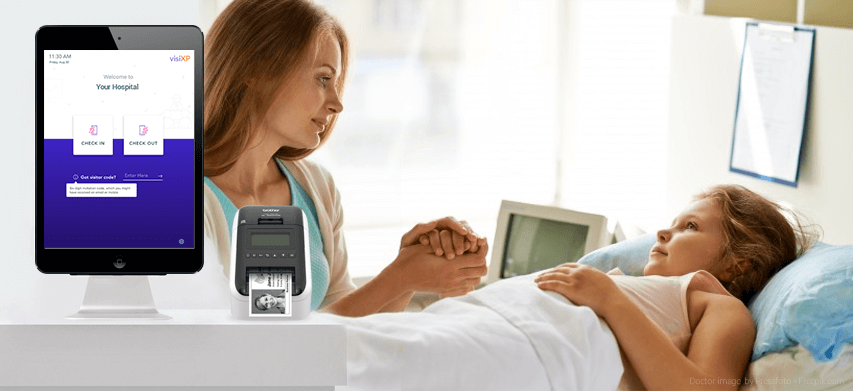 The innumerable number of people also poses a security threat to the hospital and its employees ranging from theft of supplies to violence. Also, there are patient privacy issues to deal with, and hospitals have to ensure that there is no unauthorized access.
Though hospitals have security protocols and security guards in place, they are not able to keep a check on all visitors. Also, they cannot be too strict as hospitals are meant to encourage a welcoming environment and this can hamper their image and reputation, impacting patient retention.
The modern age hospital visitor management system provides a great impetus to ensure an effective and efficient protocol to leverage security without compromising on the welcoming attitude.
The Current State of Visitor Management in Hospitals and Associated Challenges
Hospitals and other medical care facilities receive heavy footfall each day. Research and various studies have pointed out the beneficial effects of family members, friends, and loved ones on the recovery of patients.
Spending time with family members or your spouse reduces the amount of anxiety and isolation a patient feels in a hospital setting. Studies have also shown that quality time spent in company with family members reduced inflammation and nerve-associated pain in patients who have undergone surgery.
The need for patient satisfaction and transformation to patient-centric care has made hospitals more lenient on allowing visitors by removing various restrictions. But this has also created concern for the safety of people, patients, and property in a medical facility.
Most hospitals still use paper-based visitor logs, handwritten guest badges, and passes to manage the visitors. It's needless to say that it is not only a cumbersome and time-consuming process but also compromises the security of your organization.
With so many facilities given out to visitors, it's really difficult to keep a track on them. The badges you give them can easily be imitated, and unauthorized people can gain entry in restricted zones. You can't track the visitors to find where they are on your premises in case there is a security breach or emergency.
Also, there is an increased need to meet with various laws and regulatory policies mandated by the government and other administrative institutions. The paper-based, manual and laboring approach of managing visitors don't work so well in this age and falls short of providing the required level of protection to your facility.
The Need for a Reliable Hospital Visitor Management System
Now hospitals and clinics have moved to an automated software-based visitor management solution, which takes care of the whole visitor management process. Everything is done via computer or tablets like iPad making the whole process quick and user-friendly.
The hospital visitor management system can be used to automate the process, verify identifications, maintain a database of visitors, and carry out a host of tasks, which doesn't even require any human intervention.
It lets your staff concentrate on serving the patients and attending to the patient family while the automated system makes sure only authorized people to get access to the units. You can also use it to manage family members and friends visiting admitted patients and issue badges with check-in and checkout times.
The centralized system has streamlined the visitor related processes like identification, registration, access control, and leveraged the overall healthcare security level.
Now, let's check out how a healthcare visitor management system provides endless advantages to your hospital ensuring patient safety and satisfaction along with protecting your employees.
Benefits of Implementing an Electronic Visitor Management System: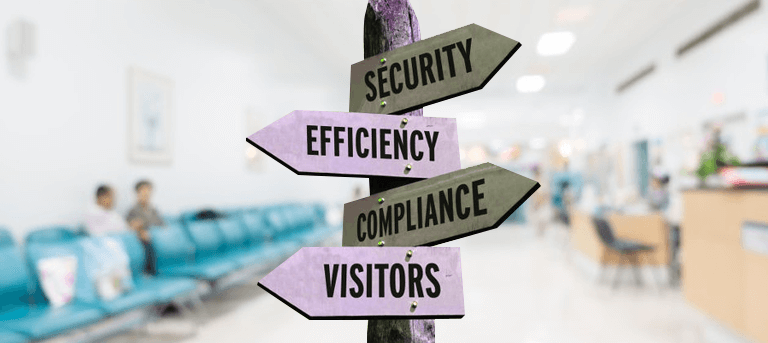 Quick and Easy Check-in
Forget paper visitor logs, spilled inks, and illegible handwriting!
The hospital visitor management system can record any guest information in the database, which cannot be tampered with anyone. You can also set up self-help kiosks, which visitors can use to sign in themselves.
A manual check-in takes 5 minutes whereas the electronic alternative can get it done in 20 seconds!
Pre-registration
If you know a visitor is coming, you can enter the information about the guest in your hospital visitor management system. When the guest arrives, he just scans his ID or enters his name, and the whole process is taken care of automatically, saving time and increasing guest satisfaction.
Ensure Compliance
Healthcare organizations need guests to sign on various legal documents like NDA, waivers, health questionnaires, or other agreements to gain access to their premises. The management system can present the documents and capture their digital signature, automatically saves time.
The system alerts you instantly in case any guest fails to meet the conditions in the agreements or documents.
Scan and Verify Identification
Your visitor management solution can be set up with a camera to scan government-issued IDs like driver's license, passports, and so on. The information from the ID is directly entered in the database and stored in the cloud without the need for any manual effort.
The camera can also be used for visual identification by matching stored images in the system and issue alert in case of blacklisted or unauthorized visitors.
Issue Tamper Proof Professional Visitor Badges
Paper visitor passes and badges can be copied and tampered with compromising the security of your enterprise. But the visitor management system can be linked to a printer to create a professional and tamper-proof badge.
The iPad loaded with the visitor management app can capture the photo of the visitor and other credentials. Then it prints them out on the visitor badge with additional information about the patient or guest they are visiting, duration of stay, and employee host.
You can also include your hospital logo, which cannot be copied even if one wanted to.
Facilitate Evacuation and Emergency Response
The visitor management system database holds information about every visitor that walks into your hospital. You know who they are visiting, where they are at the current moment, and how long they are going to be there.
This helps the security and emergency teams locate and account for every visitor who needs to be rescued or evacuated. You can also quickly create an evacuation list based on the database and work out your emergency plan.
Generate Notifications
A healthcare visitor management system can be set up to issue instant notifications to predefined parties in various scenarios. For example, if someone wants to meet a doctor who is not available at the moment, the system can notify to alert other available personnel.
Best Practices for Implementing a Visitor Management System in Hospitals
By now you know how a reliable healthcare visitor management system helps your hospital track and control visitors.
But visitor management systems are just solutions, and their effectiveness depends on how you use them.
Here are a few best practices from the industry, which will help you manage your visitors optimally:
Implement an automated and reliable visitor management system in your organization – they are more efficient in logging in guests and helping track employees in real time. You can provide greater safety to your employees and patients by only allowing authorized people to access your facility.

The visitor management system is there to ease your visitor sign in and badge creation process. The whole thing should not take more than 20 seconds, saving your time and effort.

Your visitor management system should have the capability to be integrated with other software and applications. For example, the system may pre-register a visitor using information stored from previous interactions.

Modern hospital visitor management systems can scan IDs like driver's license to automatically capture details like name and address. But your system should be able to accommodate a wide range of information like the patient the guest is visiting, the company name of a salesperson and so on.

You can create a blacklist based on which the system will alert your employees whenever someone from the list checks in. The same feature can also be used to screen unwanted visitors like registered criminals in government databases.

Your visitor management system should be able to generate auto alerts in case the unit reaches maximum visitor capacity or if a guest doesn't find anyone to receive him after signing in.

The healthcare visitor management system should be flexible to adjust to the specific needs and environment of the organization. Your solution provider can do this based on your requirements.

Frequent visitors can be issued special badges with barcodes, which simplify their access. They can quickly swipe the badge with the barcode and gain entry to meet the patients or doctors whatever the case may be.

Customize your visitor management system the way you need it to perform. You can program it to print different batches for patient family, salesperson, vendors and temporary employees. Other aspects like the digital log can also be customized to add extra fields.

You can use self sign-in kiosks using touchscreen devices like iPads. The guest's input essential information, get their ID scanned and photo taken for auto check-in. The whole process becomes fast and efficient while you save paying the wages of a receptionist.
Implement a Reliable Digital Hospital Visitor Management System
If you want to increase security and reduce costs, an electronic visitor management system is what you need for your healthcare facility. You cannot go on compromising the safety of your patients and staff, and it depends on you to take the right step.
What you need is a comprehensive and feature-rich hospital visitor management system. Mobisoft Infotech provides a unique solution to help you get that, with the ability to customize the visitor management system according to your organization requirements.
Author's Bio

Nitin Lahoti is the Co-Founder and Director at Mobisoft Infotech. He has 15 years of experience in Design, Business Development and Startups. His expertise is in Product Ideation, UX/UI design, Startup consulting and mentoring. He prefers business readings and loves traveling.