Millions of smartphone users consider mobile apps as simple, guaranteed solutions for daily needs, and many problems. But these users don't think twice about abandoning an app if they are frustrated by the overall app performance. And therefore, companies want to keep their apps in robust health. They are investing in mobile app maintenance and reaping the long-term benefits of this investment.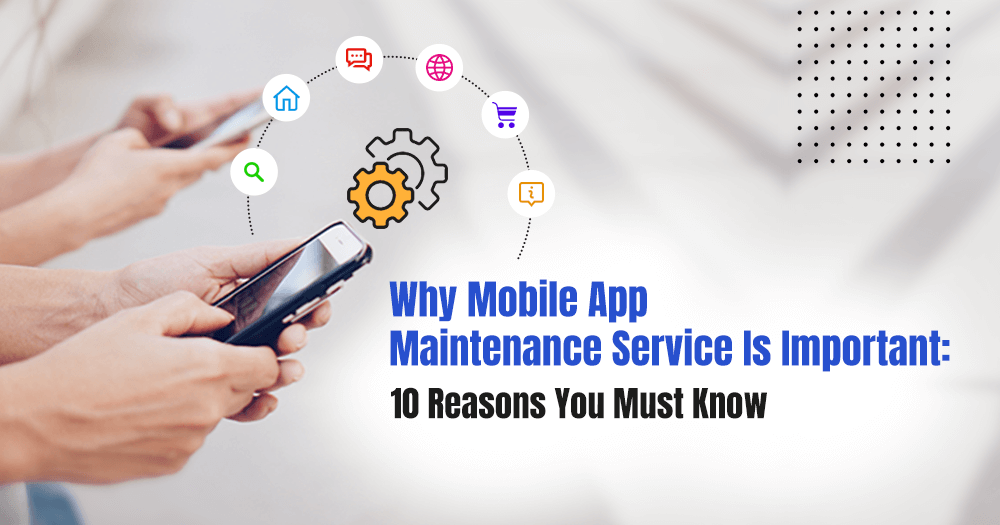 Adopting app maintenance practices are integral for businesses now. Companies, therefore, are updating their applications at frequent intervals. Apps are being updated according to the latest trends and market requirements. Many enterprises are scheduling maintenance at intervals of 2-3 months by allocating sufficient time and resources for mobile app development and maintenance. They have to make such a strategy because a big chunk of their loyal customers is almost 'dependent' on their apps, and without proper maintenance, these apps may sometimes break down.
No company should allow such unfortunate disturbances in the proper functioning of its apps. This is because mobile apps are like 'life' for users. In the absence of these apps, users may get 'lifeless' literally. The users solve day-to-day problems related to banking, grocery, education, health, entertainment, news, and more using mobile apps.
In fact, research says, a majority of adults worldwide use smartphones to connect to the internet and use mobile apps. They operate at least one social media app, messaging app, mobile payment apps, and some of them use three or more. This culture of using smartphones brings on a great opportunity for companies that want to place their products and services close to their prospects. And App Stores have made this more accessible than ever before.
Furthermore, the number of mobile app downloads is rising enormously. According to statistics, in the third quarter of 2020, the total number of app downloads from Google Play is around 28.3 billion, whereas mobile apps in the Apple App Store have generated around 8.2 million downloads. So, a mobile app and its maintenance both are an integral part of the core strategy for businesses. Its benefits are manifold. Mobile app maintenance results in improved app quality, the life of apps increase and eventually boost companies' productivity. There are more reasons to integrate mobile application maintenance into your long-term business strategy.
Top 10 Reasons Why Your Business Need Mobile App Maintenance Services
Here are the top 10 reasons – Why should you give importance to mobile app maintenance services? Why should you consider mobile app maintenance as an important one for your business? Let's read it on to know.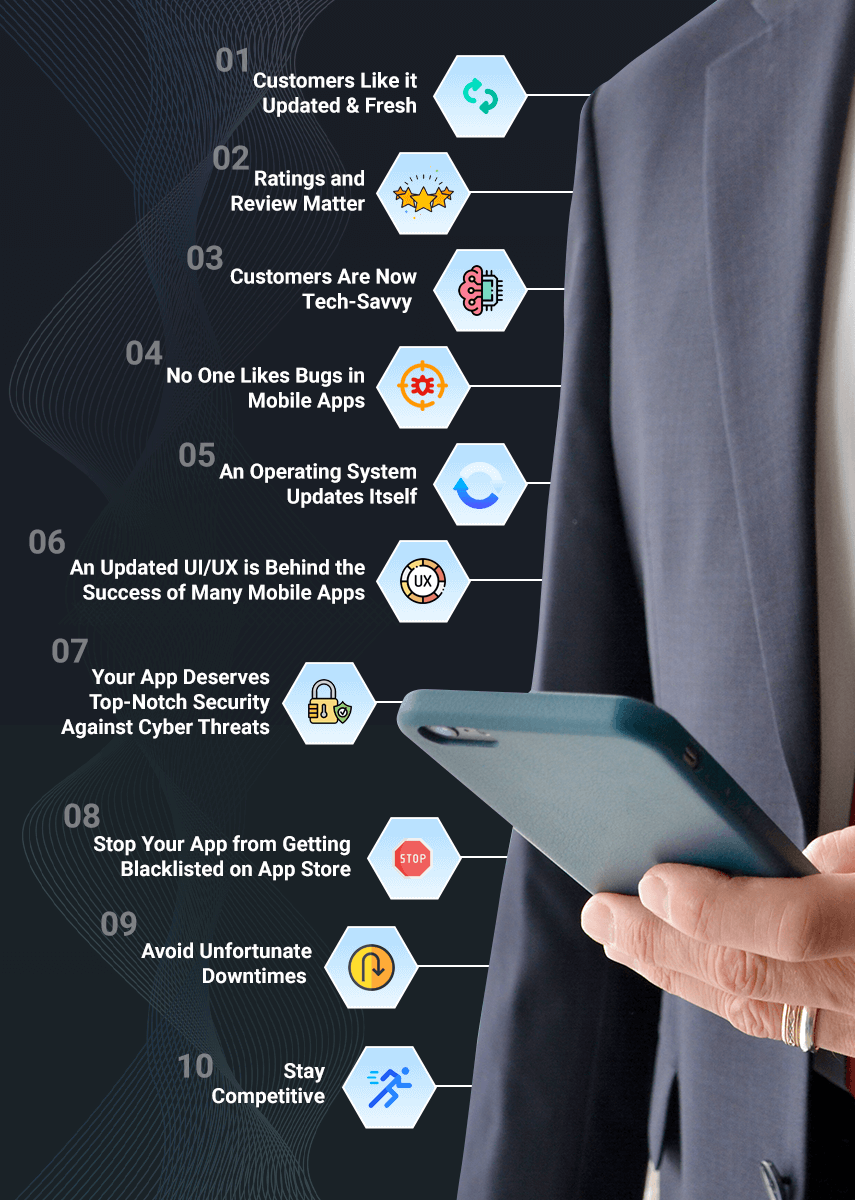 1
Customers Like it Updated & Fresh
Users love the freshness and new features when it comes to a mobile app. And therefore, you should maintain your app with all hearts to please your customers. You should keep offering fresh updates to them, along with useful features. This also proves that you care about the wishes of your loyal customers. And you can show your care by good mobile app development and its maintenance from time to time. We can say that old is certainly not gold here. In the world of mobile technology, everything is fickle, and this is true for mobile apps as well.
2
Ratings and Review Matter
Users give ratings and reviews on the App Store and share feedback on their experience with an app. This step helps other users decide which apps they would like to download. The frequent update of your mobile app brings a positive impact on your app ratings and reviews. This is because you enhance users' experience through regular updates that result in a flow of positive reviews, leading to an increased number of app downloads. And this is how you build rapport with people who are using your app.
3
Customers Are Now Tech-Savvy
To match the requirements of tech-savvy customers and avoid losing relevance, these days, companies need to continue innovating and keeping their app platform upbeat. Your customers can effortlessly see when the app was last updated. But if your app is back in the race and not coming up regularly with fresh updates, your company will likely not be taken seriously. So it's better to know how often you should update your app to be loved by your customers consistently. This is part of mobile application management. Frequent updates help an app generate more interest. Releasing regular updates is the right marketing approach as well since your app is facing stiff competition.
4
No One Likes Bugs in Mobile Apps
No matter how smart your developers and coders are, some bugs are just truly nefarious. They act like errors in an app, causing incorrect or unexpected, problematic results. No company can afford this. Making critical app bug fixing updates now and then via mobile application management solutions is important. A majority of app bugs can be discovered quickly and fixed with specific tools. You can invest in bug-fixing solutions and keep your app healthy.
5
An Operating System Updates Itself
Every Operating System (OS) gets updated regularly. Android and Apple come up with essential system updates every year. They have adopted this policy to provide a great experience that is replete with unique possibilities. And if you are not maintaining your app, the information transfer speed can be lost on an updated OS. In extreme cases, your app may just refuse to work. Therefore, the best thing to do is release system app updates regularly and maintain the proper functioning of your app on any OS all the time. So, use remote application management and update your app interface design to match the updated Operating System's background.
6
An Updated UI/UX is Behind the Success of Many Mobile Apps
User Interface (UI) and User Experience (UX) play a key role in making your mobile app successful. That is why you should keep your UX/UI updated and advanced. Stay updated with new UX/UI trends. Try to frequently update your app via mobile application maintenance services to match the latest standards.
7
Your App Deserves Top-Notch Security Against Cyber Threats
Many mobile apps are often targeted by hackers. The more people getting dependent on apps, the bigger cyber threats are. Integrating mobile app security into your business strategy is, therefore, essential. This is how you can make your users feel safe and keep winning their valuable trust. If left unmaintained for a long time, your app can develop ambiguities due to cyber threats & malware even if the app is loaded with high-end security protocols. Regular mobile application management ensures that your app is protected against these nasty threats as it is updated with the latest security protocols.
8
Stop Your App from Getting Blacklisted on App Store
Now that's a really big cause. App stores come with certain rules and guidelines that ought to change periodically. If your developers are not cautious, your money-making app might get blacklisted. So, keep an eye on major policy changes of the App Store and upgrade the app accordingly. Keep your app compatible with play store updates and ensure that your app goes from strength to strength on the App Stores.
9
Avoid Unfortunate Downtimes
Your app is meant to generate revenue. But in case of any downtime, you may incur a huge loss if you don't fix it right away. Larger the downtime, bigger the loss! And no smart company should allow this. Regular mobile app maintenance is helpful in avoiding such fateful circumstances.
10
Stay Competitive
The industry is highly competitive, where the market updates need to be monitored carefully along with application performance monitoring. These days, companies are investing in resources that keep an eye on this to undertake the mobile app maintenance work whenever required. This is essential to ensure a seamless and flawless user experience so that your users cannot abandon you.

Gain Competitive Advantage Through Mobile App Maintenance
Now you have understood the importance of keeping apps in a well-maintained condition. As a business owner, you should start making a rock-solid strategy for regular app maintenance in order to gain an advantage over your competition. As a smart player, you should develop with such mobile app maintenance and services strategy that other companies cannot emulate.
Remember that you interact directly with your customers through your apps. If you give them fresh features at regular intervals, you will be successful in creating a rich customer experience.
With a well-executed mobile app maintenance strategy, you let your customers know you care to enhance their user experience. You can create brand loyalty by offering an app loaded with top-notch and updated features. Every time your customers use your app, they have a great experience and thus stay loyal to your brand. This brand loyalty gives you an edge over the competition while increasing your profit.
And this is what you need as an upward mobile business owner who sells products and services through well-maintained mobile apps.
Final thoughts,
Make app maintenance your priority to match the needs of your customers. Focus on keeping your mobile app fit and fine in assistance with professional mobile app maintenance solutions. Your app should be bug-free, with a great UI/UX so that your users cannot just ignore it. Stay updated and get a high rating on app stores with fair reviews that boost your company's overall reputation. Opt for an expert team to get prompt mobile application maintenance services for making your app stay bug-free, robust, and secure.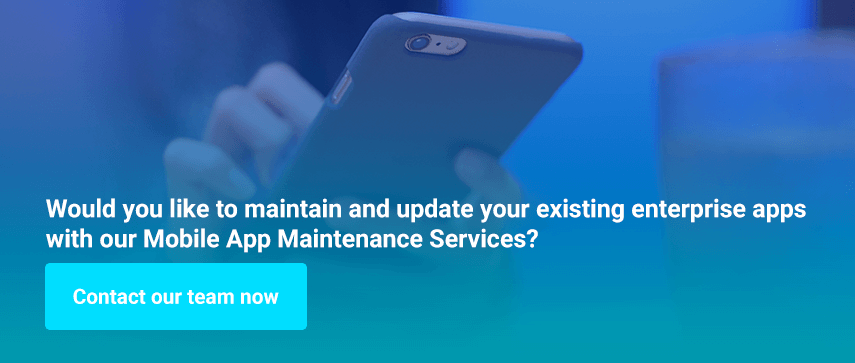 Author's Bio

Shoeb Ahmad, with an experience of 22 years in Digital World, heads Digital Marketing at Mobisoft Infotech. He has a rich experience in SEM, SEO, Social Media & other verticals of Digital Media. He also has been a consultant for a variety of industries, enterprises & startups. He loves reading & traveling. He often writes on various forums since he believes 'Knowledge increases by sharing.'