TMCx accelerator provides ample resources of the Texas Medical Center to visionary entrepreneurs and empowers the development of healthcare technology companies.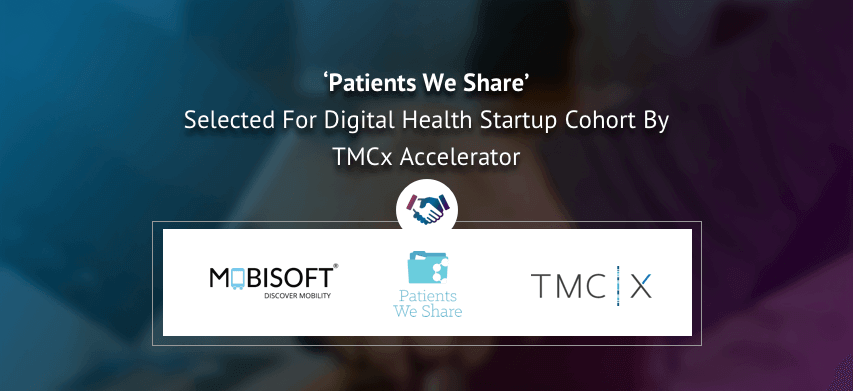 Houston, Feb 3, 2018: We are thrilled to announce that Mobisoft Infotech's client and partner 'Patients We Share' has been selected as one of the members by Texas Medical Center Accelerator for its sixth cohort of digital health startups. It's the first batch since a venture fund was presented by the group in November to invest in startups that are in early stages of development.
Along with 23 other participating companies, 'Patient We Share' will attend various workshops and hands-on events to get valuable insights from experts in a digital healthcare business. It will closely work with TMCx team to build relationships and refine the product strategy.
As a development partner, Mobisoft Infotech played a pivotal role in designing and implementing a highly scalable solution using Xamarin and Microsoft Azure platform. In addition, Mobisoft team enabled support for HIPAA compliance with additional security features like Apple's Touch ID authentication for the providers. Using our technological and healthcare expertise, the system was made more robust, stable, and scalable.
Sharing his thoughts on this achievement, Justin E. Bird, Founder, Patients We Share said, "PWS is excited to be a part of the next group of digital health solutions in TMCx.  We are looking forward to the opportunity to grow the 'Patients We Share' healthcare community and use our technology to make the healthcare community smarter." He further added, "Our technology is made possible by the hard work and dedication of the Mobisoft team, who is not only developing great code for our solutions but also helping us improve healthcare by creating a better patient-provider experience through the use of digital technology. The most challenging problems in healthcare delivery can be solved when disruptive thinkers develop strong teams that create powerful technologies designed to empower the human element.  We believe TMCx will provide opportunities for 'Patients We Share' to develop an even stronger team through meaningful collaborations with other digital health innovators and the TMC community at large."
About TMCx
Located in the TMC Innovation Institute, the program provides healthcare & medical startup companies with shared workspace, a curriculum tailored to the needs of healthcare entrepreneurs and the guidance of over 120 advisors from the front lines of the industry. Companies have access to the world's largest medical center, all without membership fees or equity sharing.
About 'Patients We Share'
'Patients We Share' is a workflow communication app which uses machine learning to foster connectivity within the healthcare ecosystem, aligning patients with the most appropriate providers, products, and services. This platform transforms the way patients and providers communicate and share healthcare information. The app will undoubtedly improve patient-provider fit, access to care, and health literacy. The solution is built by, and for, both patients and healthcare providers alike. The solution leverages natural social behaviors in order to create a communication platform that fits organically into the healthcare ecosystem.
About Mobisoft
Mobisoft Infotech is a Houston, TX-based custom product development company with deep healthcare technology expertise. We offer HIPAA compliant custom healthcare application development and associated technology services to bring digital transformation to the entire healthcare industry. Our digital healthcare transformation team enables healthcare providers to improve patient outcomes, experience, and efficiency by leveraging mobile technologies. For healthcare startups, in particular, we offer end-to-end technology development solution to build and scale their novel healthcare products.