iPhone 6, iPhone 6 Plus and iOS 8: Out with the old and in with the New! A new era?
Bigger, better, sleeker and faster!
The wait is over! The iPhone 6 and the iPhone 6 Plus, have been the most anticipated smartphones that have released this year, setting the cash registers ringing with a whopping 10 million handsets being sold during their initial launch weekend itself. These figures cross 9 million iPhone 5C and 5S device sales from the launch last year, and are much higher than the 5 million iPhone 5 devices sold back in 2012.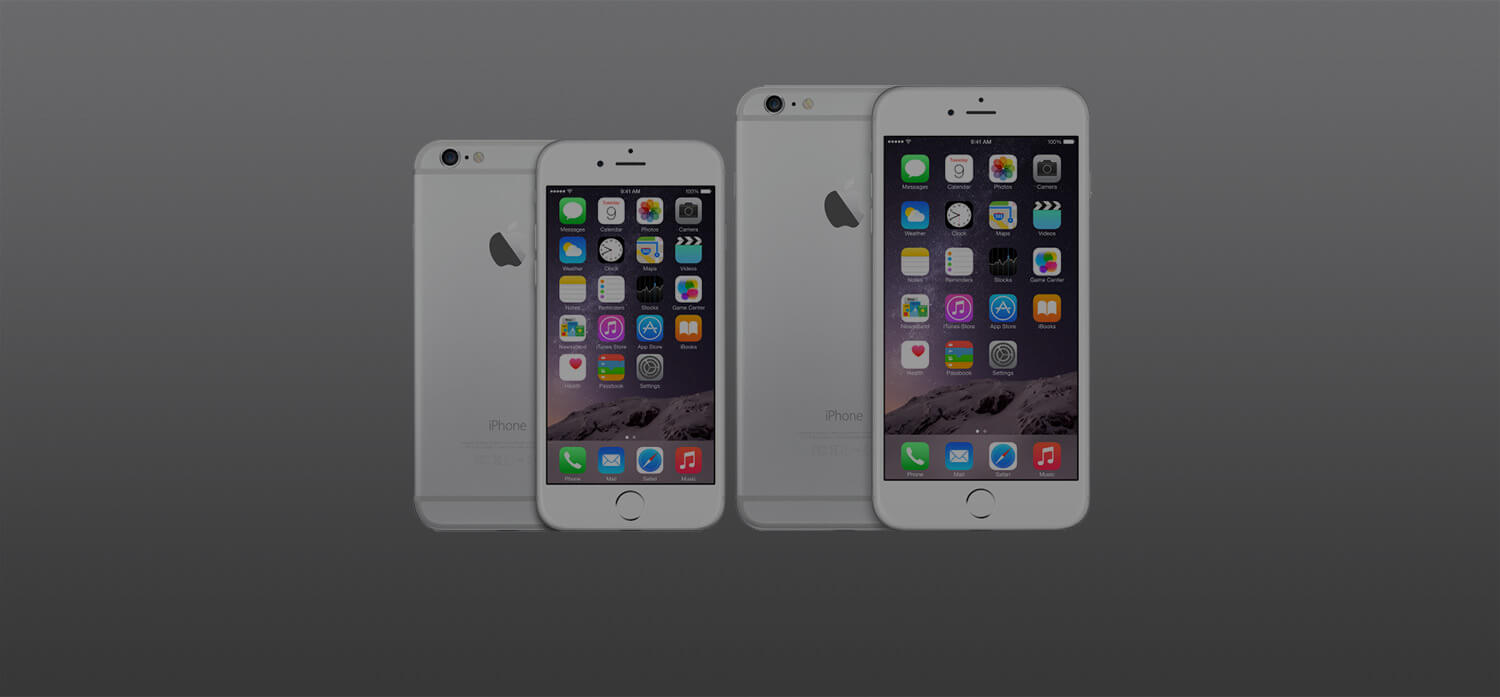 With the 4.7-inch iPhone 6 and 5.5-inch iPhone 6 Plus, the company has unveiled two new high-end phones at the same time, both with a complete redesign and a much larger screen size that any iPhone has come up with.
Both the device models have attracted yays and nays too, mostly due to the size,
price, battery life etc. Here's a quick review highlighting the main features of the iPhone 6 and 6 Plus.
Screen:
The iPhone 6's display measures 4.7 inches corner-to-corner at a resolution of 1,334 x 750 pixels. The 6 Plus is 5.5 inches at a resolution of 1,920 x 1080 pixels. This means bigger website text, videos can be watched at a distance and so on. (But the size also makes it a two-handed device)
However, additional screen space on the iPhone 6 Plus allows you to run apps in the landscape mode, iPad style, so it's a great bonus for anyone who's looking for more room on their handset.
Camera:
Both the phone models feature the same camera lens technology which means an 8-megapixel shooter (same as the iPhone 5S), so all your selfies and pictures would turn out great amidst all conditions. The iPhone 6 Plus features optical image stabilization (OIS), while the iPhone 6 only has regular image stabilization.
Battery:
The big iPhone 6 Plus equals more room for a bigger battery and Apple states that its battery lasts longer than the iPhone 6: 16 days of talk time compared to 10, 80 hours of audio playback as opposed to 50, and 14 hours of video playback as opposed to 11. Both the devices run longer than the 5S, but the Plus lasts longer.
Bonus:
Here's more! Unpacking the iPhone 6 and iPhone 6 Plus
iOS 8: Everything you need to know!
Apple unveiled the much-awaited iOS 8 at the keynote event of its Worldwide Developers Conference in San Francisco earlier this year and it was finally available for download on September 17, 2014.
Apple's latest OS doesn't usher in a dramatic new look like last year's iOS 7, but a slew of new messaging features, a health-tracking app, third-party extensions for keyboards, and even a new programming language (Swift) got some of the loudest cheers as the iOS 8 downloads have kicked off last month.
Compatibility:
iOS 8 is not available on iPhone 4 and is compatible with iPhone 4S and later, iPad 2 and later and iPod Touch 5th generation.
So what does iOS 8 have in store that will change the way you use your iPhone everyday?
Battery Usage Indicator:
"The battery drains too fast", has to be the most common problem faced by iPhone users. iOS 8 shows you your current battery usage by individual app. The amount of energy being used by each app is shown in number percentages. So now you will know whether you have to reduce your 3G usage, delete those battery hogging games or log out of your social media apps.
Health:
iOS 8 comes with a power-packed Health application which pulls out data from other third-party apps such as Nike to keep all your health-related information on a single platform. It also entitles you to create a Medical ID that can be accessed even via the lock screen for your contact details in case of any medical emergency.
Improved Messaging:
Send voice messages with a tap; send selfies & multiple photos all at once. Apple has also made group conversations less annoying – new features allow you to add and remove users from group conversations, mute group threads or leave any group chat. Users can also share their exact location with others in a conversation (very helpful in locating your friends in a new city or concert) and can check photos or videos that have been shared in each chat.
Interactive Notifications:
Quickly respond to notifications without launching the Messages app. All it takes is pulling down the banner, typing away your reply and getting back to collecting coins on Subway Surfers.
Quick Type & Third-Party Keyboards:
iOS 8 takes typing a notch higher via predictive typing, which suggests several options for the next word as you type. Additionally, Apple has agreed to allow users to install third-party keyboards such as CoolKey, Swype, and SwiftKey.
Family Sharing:
Apple has introduced a new Family Sharing feature that allows up to six users to share any media content or apps they buy by using the same credit card. They can also share calendars, family holiday albums and more. But the main motive behind this feature is to keep a close check on what your children purchase from the App Store. With Family Sharing, the parent gets notified, and then can grant or deny the purchase.
Siri:
Apple's voice-powered virtual assistant gets into the groove with iOS 8! You've made her play specific tracks, genres and albums with a single voice command. But now she can rate the songs in your Music collection too. (Helps in organizing playlists on your iTunes library)
Siri can also identify any song playing in the background thanks to the new Shazam integration. But alas, Siri won't be able to delete the U2 album, 'Songs of Innocence' from your phone.
3 New Reasons why it's a great time to be an iOS Developer:
Apple has never been known as a particularly developer-friendly company – in the way that Microsoft, Google and even Facebook are. However, at Apple's WWDC (Worldwide Developers Conference) keynote this year, developers were shocked and delighted by both Apple's announcements and the company's new open vibe.
Adaptive User Interface:
Apple wants to completely change the way developers think about designing apps. With iOS 7 and previous versions, developers had to consider various ways users might encounter their apps – the landscape and portrait views. With the introduction of Auto Layout, a tool to simplify the process of fitting apps to screens, developers have a lot to cheer about.
Widgets:
The Notification Center is going to play an important role with the launch of IOS 8. The Today screen now has support for third-party widgets which gives you a snapshot of all the need-to-know info from different apps with a quick swipe down from the top of your iPhone screen.
Swift:
Of all the cool features and tools announced by Apple, the one getting the most buzz is 'Swift', a new programming language introduced at the Worldwide Developer's Conference (WWDC) this year. It's a win-win situation for developers as Swift has been specifically designed using a syntax similar to modern languages such as Ruby, Python and Rust, which can make learning to code and picking up a project much easier.
iOS 8 Adoption rates:
iOS 8 went live on September 17 and within the first 20 days of its launch, the percentage of people using iOS 8 is the same as those still using iOS 7 – 47%. Studies indicate that nearly 70% of Apple users had switched to iOS 7 when it was first launched within the same time period. It's tough to find out any particular reason as to why the adoption rate for iOS 8 hasn't rapidly increased, but there are a few obvious reasons:
Massive amount of space needed for the iOS 8 update (5GB which means saying goodbye to most of your photos, music and apps)
iOS 8.0.1 had too many errors for which Apple publicly apologized and released 8.0.2 to fix the errors.
Reduced battery life, connectivity issues and other functionality issues is keeping many users from updating their OS.
#Bendgate and #Hairgate: Trending much?
Soon after the launch of Apple's latest premium devices, the above Hashtags have been exploding all over popular social networking websites especially Twitter. Owners of the larger version of Apple's iPhone 6 complained about the way the device bends when placed under pressure, such as sitting down for a long duration with the phone placed in the user's pocket. (Users also stated that the device still remains operational)
Forget Bendgate. Now the latest hashtag trending all over social media is iPhone 6's new issue, Hairgate!
"Your phone may be smarter than ever, but leave the shaving to the experts," said Gillette Co. on Twitter.
Apple is under the radar as users have been complaining that the iPhone 6 and iPhone 6 Plus pulls or traps their hair or beard when they make calls. In fact, popular Halloween costumes for this holiday season include dressing up as a bent iPhone 6 and attaching clumps of hair to your phone costume to depict the #Hairgate!
Here's how to make your perfect #Bendgate costume
It can't be said whether this is a serious issue or if users are creating issues that really aren't worth blowing up as Apple products have always been targeted by skeptics and critics.
In-House News:
In other news, Mobisoft Infotech completes 5 successful years in the market and ranks among the Houston Fast 100 owing to its rapid expansion through sheer innovation and entrepreneurial spirit. We aim at achieving many more milestones ahead and ensuring our clients attain nothing but the best.