Our UX Consulting Service Offerings
Every engagement is unique. And our best UI design company offer an equally 'Unique UX Solution'!
Improving the end-user experience of an IT app has become imperative for a smart business as it leaves a long-lasting impact. User Experience (UX) basically comprises the design that creates human-computer interaction, hence designing an immersive experience eventually helps in determining adoption and productivity.
Mobisoft being the best UI consulting company incorporates the practices of user experience designs that include development activities at every stage of the lifecycle of app development. Mobisoft's UX/UI experts work by focusing on the needs of the end-users, making it a central part of the entire process of app development. Our UI design services help our partners to develop a robust and scalable user experience, which let them maximize their ROI, hence meet their business end-goals.
Through our UX best practices, we help our clients sketch their success stories!
Mobisoft being one of the best UI design companies aim at designing products that deliver a positive experience by bridging the gap between the stakeholder goals and user expectations. With an emotionally balanced human-centered approach we, as the one of the best UI consulting companies, use the 'power of UX/ UI design services' to create experiences that people love!
Our eventual goal is to move from ease-of-use to 'delight-to-use'.
Our Design Process


Mobile UX
Designing apps that make smartphones smarter!

Website UX
Making 'One-Size-Fits-All' a sensible solution!
Web Apps
Higher the complexity more the joy fixing it!

Ecommerce
Making your 'e-store' the most sought after shop

SaaS
Designing instinctive products that reciprocate to every input from the user.

Wearables
Designing experiences that you could wear. Literally!
Data-Driven
Design
We dive deep to understand & quantify your problem to provide a unique UX/UI design and development services that caters an engaging experience.

Market Research & Analysis
We kick start the UX process by gathering, analyzing and defining requirements to understand user goals & emotions

Information Architecture
Users must quickly be able to find what they seek. We structure and organize information based the concept of 'findability'

Wireframes
These blueprints reveal the envisioned structure of the entire product. It shows what goes where on a page real estate.
UI/UX
Case Studies
We have crafted engaging experiences for both startups and Fortune 500 brands across various industry verticals. In this process we have worked with some awesome people. Here are a few of our success stories.
---
Our Top UX Agency
Team Structure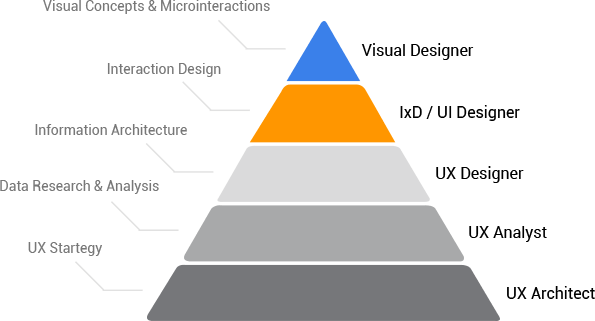 Tools Used
Axure
Omnigraffle
Justinmind
Sketch
Adobe Photoshop
Adobe Illustrator
inVision
Our designs have delighted Global Startups & Fortune 500 companies alike
---