The year 2016 witnessed the launch of Pokémon GO, a path-breaking innovation in the world of mobile video games, and the game earned tremendous acceptance globally with 100 million downloads on Google Play in one month. It is one of the top augmented reality examples among many more that have emerged in the past two years.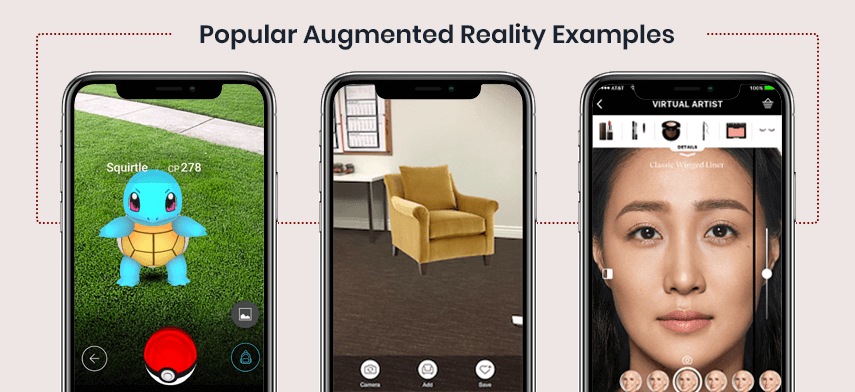 Apple CEO Tim Cook said in 2016 that the augmented reality technology will become so essential that it will be as much a part of a user's day as eating three meals a day.
In the FIFA World Cup 2018, football fans got an engaging opportunity to extend their support for their favorite team by adding 3D face masks to photos and videos. This became the first international sporting event to implement Facebook's augmented reality masks.
Over the past couple of years, we have come across numerous augmented reality examples, either in the news or experienced ourselves. The world of augmented reality has finally become as real as peanut butter. Its capabilities which we have seen in sci-fi fictions movies like HER are now a science-backed reality in life. It offers an enriched experience by introducing elements of the virtual world into the real world using technology.
From education to entertainment, healthcare to medical science, sports to tourism, product marketing to retail shopping, construction to telecommunication, engineering to manufacturing, environment to energy, AR has marked its presence everywhere. AR is here to stay and all set to become an indispensable part of our daily lives.
Augmented Reality and its types
Augment means 'to add' or 'to enhance something'. Augmented reality is an enhanced version of the real environment by superimposing graphics, sounds, touch and effects for a better user experience.
The primary objective of AR is to ensure a superior audiovisual experience for the user. The implementation models and applications of AR are wide-ranging and unlimited. It can be applied to simple things like text notifications for better user experience as well as to prepare medical professionals to perform complicated surgeries.
AR vs VR
Both virtual reality and augmented reality are changing the way we perceive reality and set to have remarkable growth in the coming years. Although they sound similar, they are two different concepts. Augmented reality adds digital elements to an existing natural environment for enhanced user experience, whereas in Virtual Reality an imagined or real-world environment is recreated.
AR aficionados classify Augmented Reality majorly into five categories, although the differences between each are not quite obvious. The different types of augmented reality are:
Projection-based AR
It projects digital images on physical objects in real space.
Recognition-based AR
You scan an image and it comes to life.
Location-based AR
It makes use of the location-detecting feature of the smart devices.
Outlining AR
It is similar to projection-based AR but uses object recognition to work.
Superimposition-based AR
It provides an 'alternate' view of a particular object. Therefore, it is used widely in healthcare and military AR applications.
The current "Reality" of "Augmented Reality"
The augmented reality ecosystem has evolved very quickly over the past few years and continues to grow at a rapid rate. The International Data Corporation (IDC) expects a five-year compound annual growth rate of 98.8% for AR and VR products and services during the period 2017-2021.
Major industries have started exploring augmented reality for improving customer experience and interaction, workforce enablement, brand advertising, etc. The home furnishing market has already put AR technology into action to enhance brand experience for their customers. Siemens, the engineering company, has recently used AR to showcase the new range of magnetic valves. Major brands like Coca-Cola, Spotify etc., are using augmented reality applications to advertise their products.
How tech giants are defining this new reality?
Google and ARCore
ARCore is the platform from Google for augmented reality apps. It enables developers to integrate virtual content with the real world and thereby offer numerous AR experiences for the users. The Expeditions AR, which was introduced to provide an augmented learning experience for students, is now free for all. Google Glass, the wearable augmented reality eyeglass launched in 2012, is often reviewed as a product far ahead of its time.
Apple and ARKit
The ARKit2, with an impressive list of additional features, was unveiled by Apple in 2018 at the Worldwide Developer Conference. It enables developers to build AR apps that ensure a deeper level of immersion for the users.
Facebook and AR Studio
Facebook introduced AR Studio, the augmented reality tool, for third-party developers in 2017. While Netflix used the AR Studio tools to launch its comic book series, Nike experimented with the Camera Effects Platform to employ AR with Messenger bots for its new line of sneakers.
Amazon Sumerian and Amazon AR View
Amazon has also stepped into the AR world with Amazon Sumerian and AR View. Amazon Sumerian lets anyone create AR apps quickly and easily using its tools. AR View is another amazing feature from the online retail giant which lets you view the products in your home before you buy it.
Microsoft Hololens
Microsoft launched Hololens in 2016 to mark its presence in the world of Mixed Reality. The release of the second version of Hololens is a much-awaited event in the tech world. It is expected to be launched this year with a custom AI chip for better performance.
Magic Leap
This highly funded Florida-based startup has come up with its futuristic pair of augmented reality glasses named as Magic Leap One. It is designed to enhance the real world with digital objects while you can interact with everything real that is going around you.
Samsung
Samsung Electronics has included augmented reality features in Galaxy 9, its recently launched smartphone model. The company has also used augmented reality tech features in Bixby Vision, the smart assistant in Galaxy Note 8, for better user experience.
Well, the list is not complete as there are many other AR startups and tech companies working on AR-based products and services. AR is expected to revolutionize the way businesses operate in the near future. The global spending on AR and virtual reality technology will reach $215 billion in 2021.
In the next couple of years, Apple and Google together will have 4.25 billion AR-capable devices. The AR industry is expected to generate revenue of $90 billion by 2020.
Major applications categories of Augmented Reality
-Social
-Marketing and Retail
-Gaming
-Utility
-Education and Training
22 of the most interesting, inspiring and innovative examples of Augmented Reality
The history of augmented reality can be traced back to the beginning of the 21st Century when Lyman Frank Baum published the illustrated novel 'The Master Key.' The first augmented reality device, named 'The Sword of Damocles,' was invented by Ivan Sutherland. Fast forward to 1990, Tom Caudell coined the term 'Augmented Reality.' And in the same decade, AR tech has taken its baby steps as a commercial commodity.
Acknowledge it or not, AR is slowly becoming a part of our everyday life now.
With numerous applications, AR is all set to transform our lives for the better. Check out below a curated list of the best AR examples put into action.
1 IKEA Mobile App – Put furniture on the streets
The Swedish home furnishing company IKEA is a pioneer in taking advantage of augmented reality technology to enhance customer experience. It launched IKEA Place, the AR-based app, in the autumn of 2017. This app enables shoppers to see exactly how furniture items in the product catalog would look and fit in their homes before they buy it. It makes use of Apple's ARKit augmented reality platform to take shopping experience to the next level.
2 Project Color App From Home Depot – Which shade for your wall?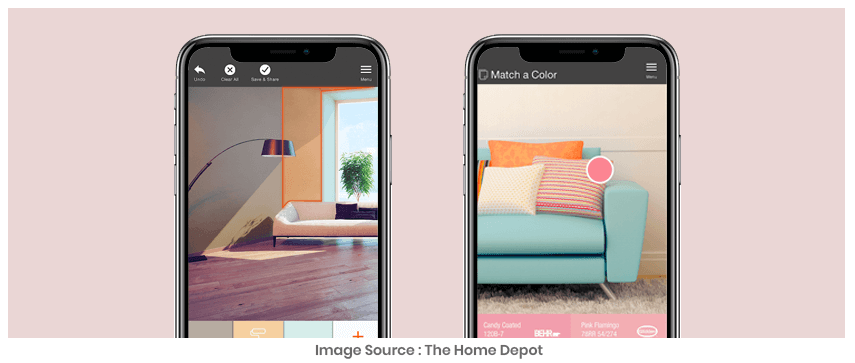 Will the wall paint make the bedroom look dull? Does the shortlisted bedroom furniture make the space jam-packed? Is the coffee table too small for the living room? These kinds of common shopping queries can become a thing of the past when home furnishing companies put AR into action.
Decorating your home becomes a lot easier with the Project Color App from Home Depot. It shows the user how a particular paint looks in the wall before you actually finalize the shade. Similar to IKEA, the company has launched its dedicated AR app for home furnishing products as well.
3Timberland – Say goodbye to fitting rooms
Not many of us want to go to the fitting room repeatedly while we shop for outfits. Hence Timberland launched its virtual fitting room in a shopping center in Warsaw to offer a better retail experience. Launched in 2014, it uses Kinect Motion Sensing Technology to enable shoppers to try on different outfits virtually. You can see your face and similar-sized figure in various outfits before you buy it.
4 Sephora Virtual Artist – Virtual makeup anywhere, anytime
Sephora Virtual Artist is an innovative and exciting AR feature available in Sephora's app. It allows the prospective customers to try on thousands of Sephora's makeup products to find the best-suited one.
5 MakeupGenius App – Unique virtual makeup experience
https://youtu.be/67Fw855WzVc
The MakeupGenius App from L'Oreal Paris, one of the world's top cosmetics manufacturers, gives you instant makeover using real products and a real inspiration. By using the camera of your phone, it recognizes your facial features to offer a seamless virtual makeup experience. If you aren't sure about which shade of lipstick or eyeliner suits you well, this app is what you need.
6 Pepsi Max, AR and the bus shelter in London
https://youtu.be/Go9rf9GmYpM
A prowling tiger, a crashing meteor and an alien tentacle grabbing people in a bus stop! Well, this is not a scene from a sci-fi movie, but an astounding advertisement using augmented reality tech by PepsiCo. The company named the video campaign as "Unbelievable Bus Shelter."
7 AccuVein for easier and safer IV insertion
AccuVein is a leading example of how augmented reality application can be used to solve a real-world problem in healthcare. It uses projection-based AR to take away the guesswork involved in finding a vein.
8 AMC Theatres provides optimal convenience with AR
The entertainment industry has already put AR into action in innovative ways. A perfect example is AMC Theatres which incorporates AR technology in their app to deliver the brand message at the right moment. Users can scan a film poster and receive relevant information about the movie using the app. They can go ahead and purchase movie tickets as well.
9 Weather Channel's AR entry to warn against winter driving hazards
Weather Channel used AR technology to explain the hazards of winter driving innovatively and it garnered much attention in April 2018. The broadcast company used a virtual car through the studio to describe the hazards of driving on snowy roads. It had earlier used augmented reality technology to display a tornado in the studio.
10 AR Poser – Take a selfie with digital avatars
Disney Research has recently started to use augmented reality technology to enable users to pose with, or as, a digital avatar for enhanced user experience. The app named as AR Poser takes only 2 seconds to interpret an image and project the digital avatar. The team at Disney Research had earlier developed technology using AR to project colored images from a book into 3D renderings using a smartphone.
11 Pokémon GO – The game that made AR a household name
Pokémon GO does not need any explanation. Niantic surprised the whole world with its augmented reality video game Pokémon GO. The game enjoyed overwhelming success leading to the massive popularity of AR technology among consumers. The company will soon launch its next game themed on Harry Potter series and is named as 'Harry Potter: Wizards Unite'.
12 Google's Measure – Forget the measuring tapes
Don't have a measuring tape handy? Here's the virtual measuring app from Google that is available on any device that runs ARCore. It lets you measure smaller dimensions quickly by just using your smartphone camera.
13 Find Your Car With AR – In case you forget
Do you often forget where you parked the car and waste time over searching for it? Here's the right solution. 'Find Your Car With AR' lets you see where you have parked the car, the street address, date and time of parking and much more. This AR-based app is most helpful when you park the car in crowded areas like stadiums, malls, convention centers, etc.
14 Taco Bell – Product packaging with an AR twist
When Taco Bell released its new Doritos Locos Tacos, it placed an AR feature in its app. Users can scan the product box using the app to see product-related content in Twitter and Facebook. This way, the restaurant chain employed AR technology to create a sense of community.
15 Acura – "What a Race" in Augmented Reality
Acura, the luxury vehicle marque of Honda, embraced augmented reality last year by hosting the world's first-of-its-kind live augmented reality driving experience. Named as "What a Race," it was broadcasted on Facebook Live as part of the marketing campaign of the new 2018 TLX from the Japanese automaker.
16 StubHub's AR feature for Super Bowl fans
StubHub wanted to help football fans who are uncertain about the location of their seats in the stadium for the Super Bowl matches. They came up with an AR-based feature in their iPhone app to improve the overall Super Bowl experience of ticket-buyers. They can actually visualize the location of their seats, parking garages and pre-game events in the surrounding area.
17 Wikitude – The AR browser app
Wikitude app is appreciated by travelers as it provides location-based augmented reality experiences and geographically relevant information. You can also get information regarding accommodation, hotel deals etc. using the app. It includes many amazing features like 3D model rendering, image recognition, tracking, and video rendering to name a few.
18 Tactical Augmented Reality for the military force
Augmented Reality has been intelligently put into action by the United States Army. The technology called as 'Tactical Augmented Reality (TAR)' is majorly used to improve situational awareness of soldiers. TAR uses goggles with night-vision which are wirelessly connected to a tablet that soldiers carry on their waists. The exciting part of TAR is that when a soldier points a weapon, the image of the target along with their details can be seen through the eyepiece.
19 Wiring worries of Boeing solved with AR
Boeing, the aircraft manufacturer, uses an AR solution to speed up the wire repair process and eliminate wiring errors in the plane. This hands-free device, similar to a Google Glass, lets technicians see the wiring in the plane and gives step-by-step directions using voice commands. Additionally, workers can get expert advice from remote engineers as well, using a special feature in this AR-based solution known as Skylight.
20 Aecomis uses Mixed Reality for complex projects
Architects and engineers at Aecomis work in collaboration from its Hong Kong, Denver and London offices using Mixed Reality. The company uses Microsoft Hololens Technology that projects 3D engineering models as holograms at multiple locations. The team members can walk through the visualized models of complex projects from their respective locations and thereby avoid architectural errors in the projects before construction.
21 SAVED – An oxygen mask with smart glasses
Inflight smoke, fume or fire is the leading cause of emergency landing and delays. To solve this problem, FedEx Express cargo will soon introduce an oxygen mask that will include smart glass. The pilot will get the display of flight controls quickly in the mask and thus ensure safe landing of the plane immediately. ODG has come up with this AR-based technology and it is named as Smoke Assured Vision Enhanced Display (SAVED).
AR is the reality of our future
Augmented Reality is a technology in its infancy. The biggest benefits of augmented reality technology are yet to come. It has opened up tremendous possibilities. Your imagination is the only limit when it comes to AR technology. The above-mentioned examples will probably inspire you to use this new technology innovatively to grow your business.
The power of AR tech is undeniable. If you are reluctant to embrace it now, your brand may be left behind in the race. Brands that acknowledge this and take necessary action will be well-positioned to capitalize on this transformation. Adding AR into your business strategy is slowly becoming a need of the hour.
It can be cleverly put into action to improve the business processes, enhance customer experience and boost customer engagement, to name a few. The above-listed examples are just a tip of the iceberg. The imaginative concepts you have seen in science fiction movies can now be transformed into reality with the right AR technology.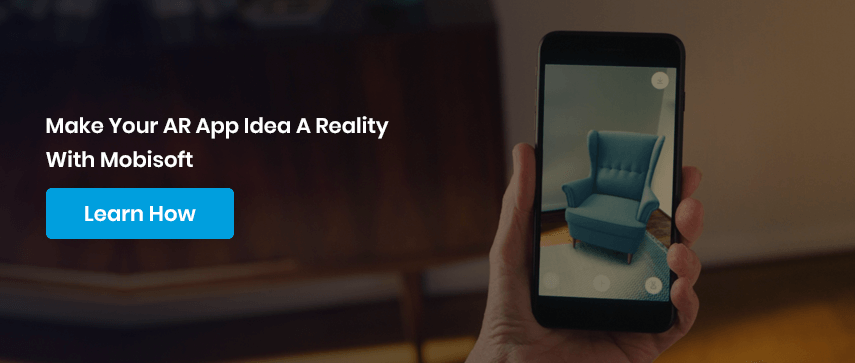 Author's Bio

Nitin Lahoti is the Co-Founder and Director at Mobisoft Infotech. He has 15 years of experience in Design, Business Development and Startups. His expertise is in Product Ideation, UX/UI design, Startup consulting and mentoring. He prefers business readings and loves traveling.