One of the key components of effective healthcare delivery is real-time communications and information sharing. However, in the healthcare domain, it is extremely critical that the exchange of patient information – often termed as protected health information (PHI) – between physicians, nurses and hospital employees through instant messaging apps and other communication channels is secure and encrypted and complies with the Health Insurance Portability and Accountability Act (HIPAA) regulations. Non-compliance to this aspect can lead to HIPAA fines and penalties that can run into millions of dollars.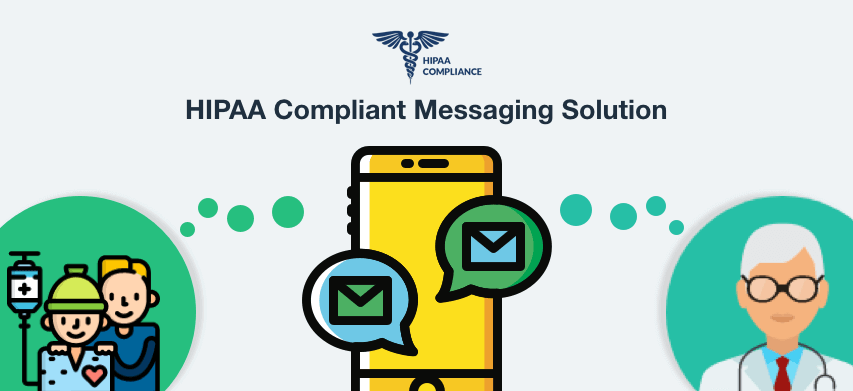 If you are a stakeholder in a hospital or clinical care institution then you should be aware about HIPAA compliant messaging. This post talks about the essential requirements for a HIPAA compliant messaging solution and its associated benefits for the industry.
HIPAA on Communications
The broader objective of HIPAA legislation is to protect patient privacy and enable secure patient information exchange. With the number of touchpoints per patient (physician, caregiver, nurse, insurance company), the lack of proper controls would mean that patient data could be compromised.
Within the HIPAA framework, there is a provision for secure communications. This means that all forms of instant messaging chat and video apps or standard text messaging (SMS) solutions between the different entities associated with a patient's healthcare needs to adhere to strict norms laid out by HIPAA.
These rules make certain that all types of patient information, care guidelines, and other important patient data remains secured and encrypted at all times before, during, or after transmission of the message. It also provides the protocol to adhere to in case of a hack or security breach to protect ePHI (electronic Protected Health Information).
What makes a truly HIPAA compliant messaging solution?
While everyone in the healthcare ecosystem agrees on the need for a secure messaging platform there can be technical challenges in implementing one for your messaging app/system.
We have listed down below the key characteristics of a HIPAA compliant messaging solution.
Built-in authentication based access to messaging apps and services.

A secure messaging foundation needs to be built by enforcing strong validation of credentials. All users need to participate in this secure ecosystem only by invitation. This helps to prevent misuse and allow transparency and accountability.

Access to the messages should be secured with a password. This way, HIPAA's rules can be adhered to without any issues. An ideal HIPAA compliant solution will need to ensure that text cannot be copy-pasted from its platform. This will further help elevate the level of security offered.


Enforce mobile data encryption

The mobile data needs to be encrypted with AES-256 or a comparable alternative form of encryption. Such measures allow the data to stay secure even when the organization member loses his/ her phone.

Enforce encryption during message transmission

Along with securing the on-device data, proper steps need to be taken to guarantee that the data stays secure even during transmission. Standard messaging services are open to access by mobile companies. But a HIPAA compliant messaging app ensures that third parties do not get hold of PHI in any way at all. This can be enforced by incorporating TLS/SSL between all server nodes and the mobile device.

Proper archiving of historical data

All past messages and text communications need to be securely archived. Rather than relying on native archiving options and falling short of the HIPAA compliance norms, it is better to look at a HIPAA compliant messaging solution.

Carrying out this step will denote HIPAA compliance for messaging within the organization. This solution will provide automatic, encrypted archiving and backup that is free from external threats and vulnerabilities.

Separate work messaging and personal messaging

All steps need to be taken to ensure that the platform, networks, and channels for work-related communications are kept distinct and separate from personal communications.

While it can be easily enforced on other mediums like emails, for instant messaging it becomes a bit difficult to adhere to and hence needs committed attention for enforcing the same.

Hide PHI in notifications



Push notifications and alerts on smartphones can expose information to unwanted people if not handled properly within the HIPAA recommended protocols for messaging and communication. Having a confidential name or test result or any sensitive message pop on the home screen or the lock screen is forbidden. A good HIPAA compliant messaging solution needs to take care of this fact and prevent leaks due to text previews or alerts.




Secure media sharing

Photos and media files are some of the most common content that is shared in healthcare communications. Be it patient charts, X-rays, scan images, or diagnostics reports, there are different types of image-based data that needs to be shared across different stakeholders within the patient healthcare realm.

A violation happens when these are shared on an unsecured messaging platform. All staff members need to share the images or videos on a secure HIPAA compliant messaging platform in an encrypted format.

Pass audits and checks

Audits are a way to verify that a healthcare organization is actually conforming to the HIPAA norms for secure messaging. Towards this, the organization needs to keep records of software, hardware, encryption technology, processes and other tools being utilized.

Security breach ready

In case of a data breach or when a device with PHI is lost or stolen, the data confidentiality must continue to be upheld. Security measures like 'time-out', or a fixed number of PIN attempts, can ensure that no unauthorized personnel can access the PHI data on the mobile.
Benefits of HIPAA compliant instant messaging
As stated above, the level of compliance needed by HIPAA for an instant messaging solution can be very demanding. However, having secured real-time communication channels can significantly improve the quality of patient care and is totally worth the investment.
Below are a few benefits of having a HIPAA compliant messaging solution.
Benefits for patients

Patient care becomes more proactive with real-time secure communications with providers and caregivers. If healthcare providers use secure mobile-based instant messaging services, it can reduce patient visits to their healthcare provider for reports, updates and other needs that can be fulfilled online.

It is also not always feasible for patients to visit a hospital or clinic for diagnosis or consultation. For those situations, video chats and calls are a very effective alternative.

One good example is my MyHouseCall, an app-based service that connects patients with medical providers in their area for convenient and affordable care over secure video calls. Mobisoft built the platform for this novel telemedicine solution.

Benefits for doctors

Doctors and caregivers can maintain communications with nurses, patients and other experts in a secured manner. Also, they are amongst the first set of personnel whose device will be under scrutiny in case of an audit for HIPAA compliant communication. In order to adhere to the norms and avoid risks of PHI leaks, many of them are moving to a secure messaging platform that offers encryption and maintains the confidentiality of the information transmitted.

Benefits for nurses

Secure messaging apps will improve mobility for nurses and patient outcomes. For example, whenever they need a second opinion on an ECG, they can immediately send it over to their colleague and get a prompt reply.
Implement HIPAA compliant messaging solution with Mobisoft
Real-time information exchange can significantly improve the patient outcomes. They allow doctors and nurses to be more productive and patients to have convenience. However, it is critical that all such communications happening via messaging apps and systems keep patient data private and meet HIPAA compliance.
Our HIPAA certified development team are experienced in building HIPAA compliant messaging apps and services. Feel free to contact us for a custom HIPAA compliant messaging app development solution.
Author's Bio

Shailendra Sinhasane (Shail) is the co-founder and CEO of Mobisoft Infotech. He has been focused on cloud solutions, mobile strategy, cross-platform development, IoT innovations and advising healthcare startups in building scalable products.