Technology in healthcare has contributed to the revolution in the healthcare industry immensely. In this age, patient interaction with providers in the healthcare workflow involves several medical devices and equipment. Medtech organizations are manufacturing millions of different technologies ranging from wearable devices to IoT healthcare solutions.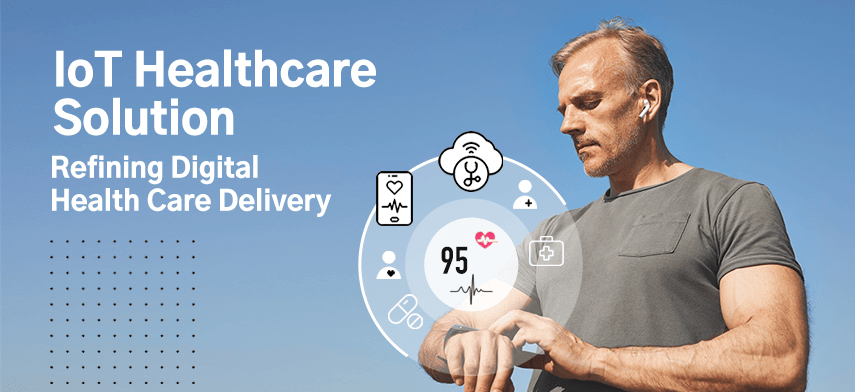 The technology in medicine has been evolving rapidly, and today, there are thousands of services and products in healthcare that are accessible for purchase. The healthcare sector has become more receptive to the benefits of technology. The computer power innovation has provided healthcare organizations with better processing capabilities via wearable technology and wireless devices. IoT solution in healthcare has enhanced healthcare app development and remote patient monitoring.
IoT and Its Crucial Role in Healthcare
The application of IoT in healthcare offered smart devices assisting in remote patient monitoring to keep patients from potential risks or threats that compromise their health and wellbeing. IoT healthcare solutions also provide empowerment to physicians for delivering superlative healthcare services. IoT has made patient interaction and engagement efficient and effective.
IoT applications in healthcare have continued to prove their benefits for patients, providers, organizations, and payers. Internet of Things has directly contributed to the reduced length of stay at hospitals and encouraged providers and patients with remote patient monitoring to prevent hospital readmissions. Hence, the assistance in time management and cost-efficiency has improved in the healthcare sector due to the application of IoT in healthcare. This has proven that patients receive better treatment, it has ensured better health outcomes, and has helped in providing profitable investments for organizations and facilities.
Let's delve into how IoT healthcare solutions can offer assistance and provide meaningful insight for innovation in the healthcare industry.
IoT in Healthcare Application to Look Out For in 2022
Internet of Things in healthcare applications has already made its impact in the sector very conveniently through technological advancements. Let's take a look at how IoT healthcare solutions can help in 2022.
1
Remote temperature monitoring
Health tech and MedTech organizations have invested in creating a system where temperature logging and alerts are developed to monitor vaccines with assistance from IoT healthcare applications. This healthcare solution has been identified as a safe method for monitoring vaccinations throughout the process of development. Remote tracking of temperature variations and inconsistencies will provide greater insight into maintaining higher safety standards for healthcare research, developments, and managing transportation for patients.
2
Remote patient monitoring services
We are all well acquainted with the method of remote patient monitoring. This process allows patients to be monitored remotely via devices connected to the internet. This application of IoT in healthcare can help in offering better access to healthcare facilities, especially to patients living in remote, rural, and underserved areas. With several populations residing miles away from a nearby hospital, remote patient monitoring has become a crucial standpoint for individuals. It offers better options for treatments without being physically present at a clinic or healthcare organization. In turn, helping providers to understand their patients better without being present for a face-to-face consultation.
3
Enhanced glucose monitoring for diabetic patients
Monitoring the level of glucose for patients with diabetics has been a debatable topic over the years. It is difficult, and sometimes not possible to keep a regular check of the glucose level. Manual entry of glucose regularly can be extremely inconvenient and erroneous. There is still a lack of glucose monitoring devices, and implementing an IoT device to constantly monitor glucose levels for diabetic patients has become crucial. IoT application in healthcare can address this challenge via constant and automatic monitoring of elevated or lowered blood sugar and glucose levels. Thus, help in eliminating the manual records and establishing a controlled environment for the healthcare monitoring process.
4
Better monitoring of mental health concerns
Wearables and smart devices connected through IoT-based healthcare solutions can help in determining symptoms associated with panic attacks and other mental health concerns. Google and Amazon assistants have become increasingly adept with the potentialities of detecting mental health issues, as it has become an evergrowing concern combined with chronic ailments. IoT healthcare applications that are interconnected with customized software development solutions can become an extremely effective tool dealing with mental health concerns like anxiety, depression, stress, burn-out, etc. Having IoT in healthcare applications can enhance access to medical help at any given time.
5
Introduction to robotic surgery procedures
Robotic surgery has become an innovative technique and tool that assists doctors and surgeons to perform complex surgical procedures. IoT-connected devices are compact and minimal invasive, hence it works alongside surgeons in making smaller incisions on the bodies of patients. This collaterally informs us that robotic surgery with the health of IoT healthcare solutions can help to provide precise surgeries, ensure steady recovery, and improve patient health outcomes. IoT application development can ensure reliable and precise surgical procedures with a less invasive approach to a patient's wellbeing.
6
Better heart-rate monitoring for patients
Hospitals and healthcare facilities are incorporating heart-rate monitoring devices in their administration for better treatment of patients. Small monitoring clips connected with the patient's clothes like a Bluetooth earpiece can help patients monitor their electrocardiography readings. Recent research has enabled doctors to follow a new pathway of monitoring the cardiac health of patients without disrupting any treatment sessions. Wireless EKG/ECG is extremely accurate and cost-efficient.

Understanding Internet of Medical Things and its Importance in Healthcare Development
As we move forward with the integration of IoT healthcare solutions, the Internet of Medical Things has surfaced in providing better growth for the healthcare sector.
Internet of Medical Things, better known as, IoMT is a groundwork that is connected wirelessly with devices, software applications, technology solutions, and other systems. It connects these services through a cloud-enabled platform where the information is collected, analyzed, processed, and provided to the necessary healthcare professionals in real-time. Even though IoMT isn't new in digital healthcare services, the business under IoMT now is booming with several benefits.
Benefits of IoMT in Healthcare
IoMT is supported by several technologies behind its working capacity. It includes Artificial Intelligence, cloud computing services, benefit healthcare, and more. Some of the recognized benefits of the Internet of Medical THings include:
1
Improvement in patient care services
IoMT has contributed to increased healthcare outcomes. With more data resources, connected technologies, and other factors in IoT healthcare solutions, it provides an additional source of patient data collection for providers. IoMT improves early intervention capabilities. Through wearable and smart devices regulated for remote patient monitoring, it can help to alert doctors regarding the patient's symptoms, minor or major. It has been listed as crucial for identifying chronic disease symptoms. With IoMT improving patient care services, it has also shown improved and accurate diagnosis and offered to provide new data from various sources. This allows practitioners to have a deeper insight into patients' health factors and make more informed decisions. Hence, improving patient engagement and satisfaction.
2
Reduced per-patient costs
IoMT in healthcare has the potential to reduce the cost per patient. There are several ways how IoMT manages to do this is via remote patient monitoring and eHealth integrated applications. Noncritical patients can be observed at the comfort of their homes and providers will receive real-time data regarding their patient's health. Internet of Medical Things enables the scheduling of remote appointments for routine follow-ups, reducing the number of in-patient visits. Applications and devices integrated with IoMT help in the early-stage intervention of patients' medication adherence. It can determine and reduce the cost of treatment, enhance operational efficiency, and optimize the healthcare workflow and supply management criteria.
3
Enhanced patient experience
Healthcare has convenient;y shifted in providing patients with value-based care services. IoMT is being observed to provide patients with improved health outcomes, and enhanced communication between patients and providers. On-demand care delivery allows IoMT solutions in accessing qualified care when necessary. There is an ease in implementing and using IoMT devices that can greatly improve patient experience and help to transmit patient medical data and records quickly.
4
Reducing pressure on providers
Implementing IoMT solutions can definitely help to improve any burnout experienced by healthcare providers. IoMT enables fewer in-person visits and mostly rel on remote patient monitoring systems, thanks to the integration of IoT healthcare solutions. With the application of IoT in healthcare, providers have better access to patient data and it reduces the chances of errors. IoMT can improve the data analysis and AI tools in healthcare can ensure negligible overlooking of critical information.
There is considerable scope for IoT in healthcare applications to grow and provide various benefits in healthcare growth. It can help in creating a high-quality feature-rich healthcare system in the software development market.
Wrapping up
The IoT healthcare solution mentioned above will become a pivotal aspect in the healthcare industry. It will promote a better landscape for healthcare and enhance self-care for patients. The IoT application in healthcare devices can help to encourage secure patient monitoring and enhance a swift shift in healthcare development. The collection of data via these tools and devices of IoT in healthcare applications can enable valuable data insight and digital tech companies like Mobisoft can enhance this development even further.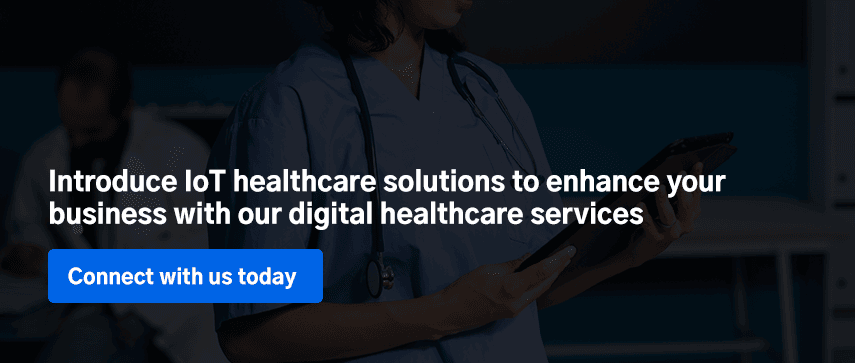 Author's Bio

Shailendra Sinhasane (Shail) is the co-founder and CEO of Mobisoft Infotech. He has been focused on cloud solutions, mobile strategy, cross-platform development, IoT innovations and advising healthcare startups in building scalable products.