The rise of bike rental startups in India has brought an excellent opportunity for all the bike enthusiasts to travel across the country comfortably, conveniently and affordably. Now people can explore a new city on a rented bike of their choice, which allows them to enjoy a joyful ride experience without worrying about the bike maintenance hassles.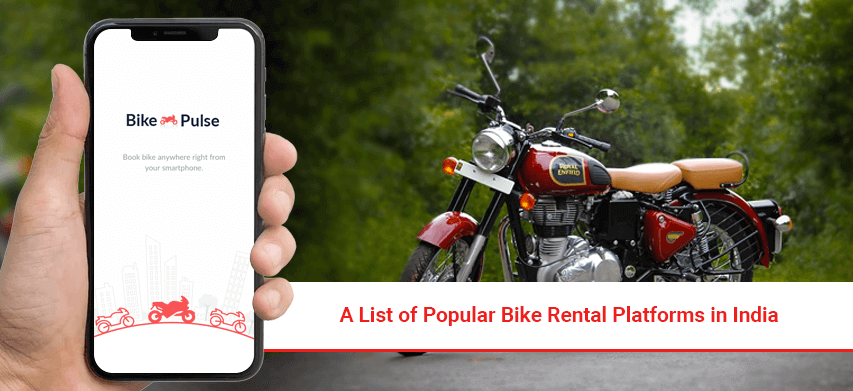 The companies offering bike rental services enable people to choose a fully serviced bike from a varied range in a few simple taps.
The Bike Rental Business Opportunity in India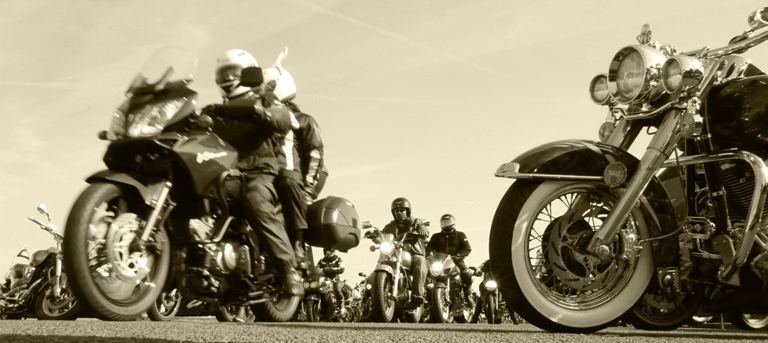 The market for online bike rental business is growing at an encouraging pace. An increasing number of startups are taking an interest in building successful bike rental platforms with unique offerings.
The bike enthusiasts and travelers are the main target audience of such bike rental startups. The adventure enthusiasts love riding bikes and exploring new places. Owning a premium bike like Royal Enfield, Duke KTM or Harley Davidson can cost a lot. Such people like the concept of renting a bike and taking the ride whenever needed. To stand out from their competitors, the companies have started providing related rental services for products such as biker jackets, gloves, cameras, gears etc. Not only for traveling purposes, but people are also opting for bike rental services for personal and work commute as well. The market for two-wheeler rental startups in India has abundant opportunities and such novel rental app platforms are fueling a new passion among urban people.
Depending on your needs and preference, you can rent from a wide variety of bikes for desired time frames. Common rental tenures offered by bike rental apps are: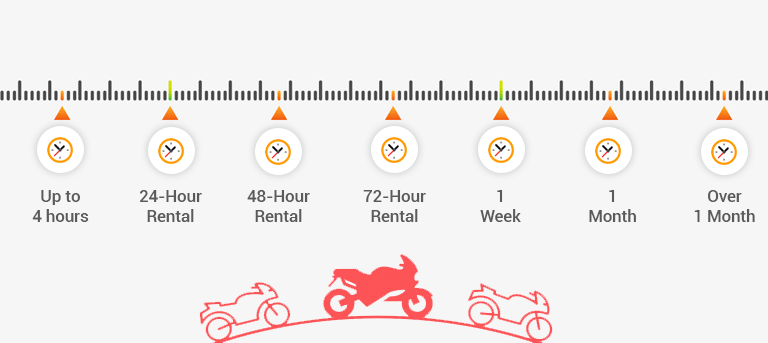 Up to 4 hours

24-Hour Rental

48-Hour Rental

72-Hour Rental

1 Week

1 Month

Over 1 Month
The cost of renting a bike depends on the time period and type of bike you pick for your needs. Companies have also started to offer customized schedules keeping the customers' requirements in focus.
How a Typical Bike Rental App Platform Works?
Bike rental app platforms make the process of renting a two-wheeler fast, hassle-free and on-demand. Majority of them offer their apps for both Android and iOS devices. Through such apps, the users can regulate their account, check nearby bike stations, find available bikes, make reservations and pay securely. The whole process includes a few simple steps:
Firstly the user needs to register via an app/website.
On the home screen of a bike rental app, one can provide the pickup location and booking date.
Then the user can view the list of available bikes.
The bike details page gives more details about the selected bike to make the selection process easy.
After choosing the bike, the user can add accessories if needed.
Then the review cart page appears where the user can go through the whole booking before making the payment.
Finally, on the payments page, the user can choose the payment option and make the payment to confirm the booking.
After finalizing the booking, the rider can either pick it up from a nearby bike station or choose to get it delivered at his doorstep at an additional cost.
When done using the bike, the rider returns the bike to a designated bike station.
The platform admin can track all the bikes and their riders' activities in real-time.
Major Business Models of Bike Rental Platforms
The self-drive bike rental platforms are based on either of the two key types of business models – aggregated fleet and self-owned fleet. Let's have a look at how these work:
Aggregated Fleet

In this business model, the bike rental platform acts as a one-stop platform and provides access to a large number of two-wheelers sourced from independent bike owners to bike rental shops. In an aggregated fleet model, from listing a bike, delivering the service to accepting the payment, everything gets managed by the vendor partners. The owner only needs to manage the overall operations of its aggregator platform.

Self-owned Fleet

In the self-owned fleet business model, a single company offers its own self-drive bikes for rent. Most startups in India, offering self-drive bike rental apps, work on the self-owned fleet business model. In this business model, the company has to invest more as compared to an aggregated fleet. Still, it can be a preferable option for startups because it gives them complete control over the quality and service.
The bike rental market in India is booming. Many startups have jumped into this on-demand 2-wheeler vehicle rental business concept.
Let's have a look at some of the popular bike rental app platforms/marketplaces in India currently.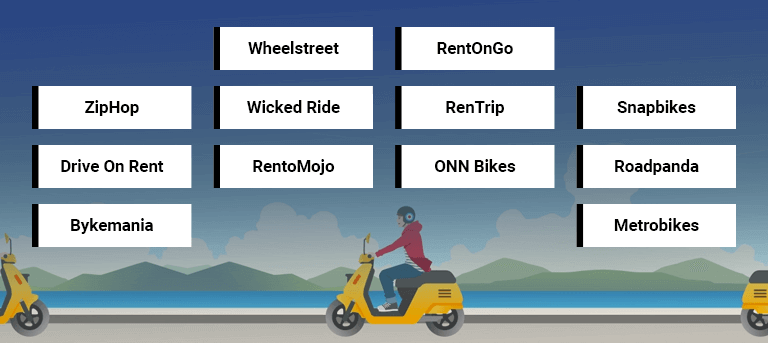 Wheelstreet is one of the most popular bike rental startups in India and works on an aggregated fleet business model. The company was founded by Pranay Srivastava, Moksha Srivastava, and Mrityunjay Jha. Ever since its establishment in June 2014, this platform has aimed to make self-drive two-wheelers accessible to people across India and help them enjoy a bike ride experience without having the hassles of owning and maintaining one. The booking can be done from both their app and website. It also has an application for the vendors through which they can manage their fleet and accounts. From being a company of four team members and 200 bikes in Bengaluru, now it has expanded its business across 18 major cities in India with verified vendors and more than 10000 bikes. The Wheelstreet team has also launched tours to complement its present business model. The future plan for the team is to offer rental services for tour accessories like tents, gears, jackets, etc., to widen their bike rental business scope. Also, they want to expand their operations in other Asian countries because of its huge market potential.
RentOnGo, founded by Nikhil Chhabra and Vikas Jalan in 2012, is an online platform for renting self-drive two-wheelers, electronic equipments, furniture, costumes, accessories, computers, cameras and musical instruments. This platform is operated by Bengaluru based company Condivision Solutions Pvt. Ltd. and is present across Bengaluru, Hyderabad, Pune, Delhi-NCR, and Mumbai. One can use its Android app and book a bike for a day or more. The company initially started with self-funding and gradually expanded. In 2017, RentOnGo raised funding from TVS Motor Company for expanding the operations, ramping up its technology platform and marketing. The company has plans to establish a stronger presence in the cities where it is already operating and then expand geographically.
Started from Goa, ZipHop, an online rental platform for bikes and self-drive cars, has expanded its business to Bengaluru and Mumbai as well. Founded by a team of five, Ankit Chaturvedi, Apoorv Agarwal, Dushyant Singh, Sudhanshu Saxena and Sumit Hablani in November 2015, ZipHop offers four-step online booking facility to enjoy an awesome ride. From Honda Activa to Harley Davidson, one can choose from a wide variety of bikes listed on its platform and have a hassle-free ride. The company also offers complimentary helmet and 24/7 roadside assistance to the riders. Being a bootstrapped bike rental startup, ZipHop aims to create a stronger presence in the existing cities and introduce bicycle rental service in the future.
This is another name among the popular bike rental startups in Bengaluru that started with a fleet of just 8 two-wheelers on May 29, 2014. Now the company operates across 10 cities in India being lead by the founders Anil G, Varun Agni and Vivekananda Hallekere. Even though it was initially a bootstrapped startup, Wicked Ride received its first round of angel funding of ₹5 crore in April 2015. According to a recent report, Wicked Ride has secured $8.98 Mn (INR 60.9 Cr) in a fresh funding round led by venture capital firms Sequoia Capital and Accel Partners.
The brother and sister duo of Agam Raghav and Shailza Singh founded this online self-drive bike rental platform to help people rent highly serviced quality bikes with minimum paperwork. It offers Pan India roadside assistance to ensure the riders' safety and convenience. One unique thing about RenTrip is that it offers lounge facility in Guwahati for the riders. During a ride the riders can stay, refresh and have fun in the lounge without paying any extra charges. The future plan of RenTrip is to offer more value to the customers and accelerate business expansion.
Talking about the bike rental startups in Pune, Snapbikes is the name that must be mentioned. The company offers Mopeds, commuter motorcycles, and premium bikes rental service on a daily, weekly and monthly basis. Founded by Aditya Puglia in 2015, Snapbikes is the only Government authorized bike rental company in Pune, as the company claims. Snapbikes mainly targets the local customers, expatriates, and tourists who want to rent an awesome bike for a day and return it back without any hassle of investing in purchase or maintenance.
Drive on Rent is an online bike rental service provider that offers premium bikes for rent throughout India. The wide variety of maintained vehicles, customer-oriented approach, affordable assistance and round o'clock support have made the company stand ahead of its competitors. The founder Pavitar Singh together with his team plans to add more vehicles and spread the operation to more locations.
Founded by Geetansh Bamania, RentoMojo is a one-stop platform for renting bikes, furniture, appliances and more. This platform is aimed at creating an alternative to buying things. The company is gradually making a strong presence into the leasing and ownership model, whereby the users will have the option to own an asset as per convenience. According to Geetansh, the future of RentoMojo lies in the long-term leasing of assets instead of short-term renting.
ONN Bikes has a bike rental app that can be downloaded from both Google Play store and Apple app store. Currently, ONN Bikes is operating in Bengaluru, Hyderabad, Jaipur, Kota, Mysore, and Udaipur. The company was founded in 2015 by Namit Jain and Shanky Munoth. Recently, Namit has disclosed the future plan of business expansion through widening its presence across four more cities by 2018 and adding 85 locations by 2022. Also, he claimed, "The cost of our self-driving bikes are 70% lower than that of cab rides." At present, the company is in the process of raising Series A funding and expanding the business operations.
Roadpanda offers freedom wrapped with safety to all the riders who wish to travel in Hyderabad, Bengaluru, Mumbai, Jaipur, and Kishangarh. It is an online bike rental platform where one can get well-maintained bikes for rent at flexible rates and with complimentary helmets. Founded by Abhilash Nair and Vijay Meena, Roadpanda has been focusing on customer-centric assistance ever since its establishment. That is why the company has seen growth within a very short period.
Bykemania, another self-drive bike rental startup from Bengaluru, is a preferred choice for many adventure enthusiasts and nomads who love riding bikes while traveling without needing to worry about any ownership costs. It offers premium bikes and scooters for rent across Bengaluru and Delhi. Founded in June 2016 with a set of 5 vehicles, Bykemania has rapidly become another reliable bike rental service provider with numerous bikes and scooters.
Metrobikes is considered as a smart urban mobility solution, aimed to make daily commute problem-free, time-saving, convenient and reliable. The rider can rent a bike for a day and drop off at any one of the authorized parking spots in the city Metrobikes operates in. A bike can be booked on its app or the customer can rent a bike from one of their 40 touch points in Bengaluru. Currently, it operates across Bengaluru, Mysore, Jaipur, Udaipur, Belagavi, Manipal, Jaisalmer, Gokarna, Hyderabad, Dandeli, and Shravanabelagola. According to a recent news, to solve Bengaluru's daily traffic problem, Bengaluru Metro Rail Corporation Ltd. has teamed up with Metrobikes to offer bike rental service at INR 5/ km across 36 metro stations in the city.
Wrapping Up This Ride
When it comes to traveling to another city or roaming around to explore new places, self-drive bike rentals offer a convenient ride option at an affordable rate. Nowadays more and more startups are taking interest in the bike rental market in India due to its growing popularity. And not only the startups, the venture capitalists and angel investors also want to test the bike rental market in India and assess if this is a place that can witness a threefold increase in the next few years. They just don't want to miss the chance of investing in a promising bike rental startup.
In a nutshell, the bike rental market in India is growing fast. We, at Mobisoft, offer on-demand bike rental app development solution to run a successful two-wheeler rental business harnessing the power of mobile technology.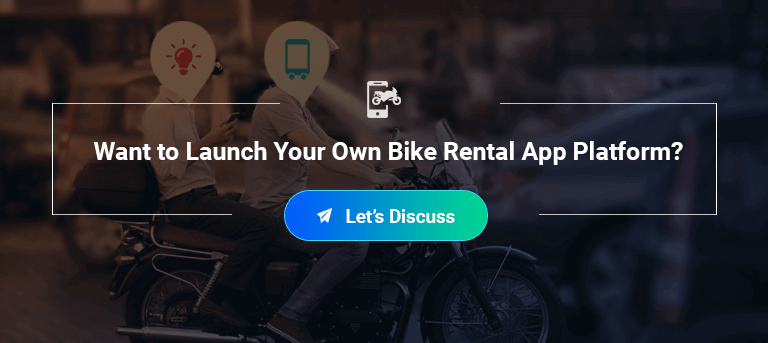 Author's Bio

Nitin Lahoti is the Co-Founder and Director at Mobisoft Infotech. He has 15 years of experience in Design, Business Development and Startups. His expertise is in Product Ideation, UX/UI design, Startup consulting and mentoring. He prefers business readings and loves traveling.