The reality of the patient-centric approach is critical for businesses to improve patient engagement. Hence, healthcare organizations are always looking out for a safe and secure way to bridge patient care gaps and for care providers to enhance the clinical metrics of businesses. Particularly, for secure communication, the healthcare regulators have a list of requirements including HIPAA compliance for healthcare.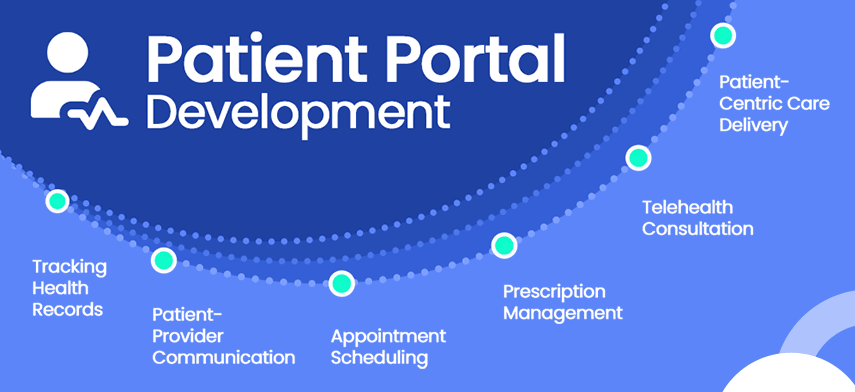 So how can patient portal development help in providing patient-provider communication? This is where patient portal software development enables legal compliance requirements, patient engagement, and satisfaction to become a solution that involves all healthcare parties.
In this blog, we will discuss patient portal development in detail regarding the functionalities and capabilities to ensure efficiency for your business.
Significance of Patient Portal Development
One of the many creations through mHealth app development has been patient portal software. The patient portal is a mobile solution that offers access to healthcare information at any given place or time including personal profiles, medical records, health billing management, healthcare service history, and more. The core achievement of patient portal development is to help patients engage with their health and increase their health-related literacy. This helps in bridging the healthcare gap between providers and patients. Custom healthcare software development has enhanced patient engagement that enables patient portal systems to save effort and time while delivering the same set of benefits of a patient portal to healthcare institutions.
Before implementing a security software development on the basis of patient portals in healthcare, it is important to be aware of the two types:
A Standalone Patient Portal System
A standalone patient portal system supports a limited number of functionalities to enhance patient engagement. This new technology in healthcare usually has one key function that is lab test assessment or appointment scheduling. The file storage or database solution behind this patient portal development is hardly connected with larger systems like EHRs. this patient portal system works well with smaller healthcare businesses, health-tech startups, healthcare providers, and more. A standalone patient system has a simple software design and hence requires fewer efforts and investments in developmental terms.
An Integrated Patient Portal Software Service
Having an integrated patient portal software service (commonly termed connected or tethered portals) serves as a work front for combined or larger systems like hospital management systems (HMS) or electronic health records (EHRs). An integrated patient portal features have direct connections with the patient database of healthcare organizations and provide a large variety of functions and healthcare services. This patient portal type needs more time and effort to design and build applications. Hence, it is associated with a higher cost of development. Moreover, patient portal development has become an integral part of digital transformation projects involving healthcare interoperability and cloud application development.
The global patient portal development market size was valued at almost USD 16 billion and it is set to hit around USD 70.3 billion by 2030, according to recent reports. This growth in the emerging technology healthcare platform is driven toward delivering high-quality healthcare services.
Now let's understand the key advantages of implementing patient portal development in healthcare
Patient Portal Development: Key Advantages
Patient portal development has a lot of key advantages that cater to improving patient-provider communication through custom mHealth app development. Here's a list of advantages of implementing patient portals in healthcare.
Improved Efficiency in Healthcare Organizations
Integrating patient portal development for your healthcare practice can help in improving the efficiency of your organizations/facility. It makes communication with patients easier and saves time and management. Minute processes like new client sign-ups can be simplified by filling out information electronically with medical device software development. The data you gather automatically gets saved digitally and there's no requirement to maintain manual records. It also reduces inconsistencies and errors in offering information.
Streamlining Healthcare Workflow
With offshore software development, patient engagement software has enhanced and streamlined workflows across healthcare facilities, clinics, organizations, and private practices. By switching to an online mode of communication, you can eliminate the repetition of answering the same queries targeted to your receptionists or nurses. This way, hospital staff can efficiently focus on urgent healthcare requirements.
Telemedicine Implementation
HIPAA compliance for healthcare has made it easy for healthcare organizations to implement telehealth and telemedicine services with patient portal development. Through patient portal software, you can successfully limit unnecessary in-clinic visits and enable patients to consult with you via digital messaging and communication systems. Patients are not required to visit the physician or provider simply to change their medication or prescription. Thus, instead of scheduling an appointment visit, patients can use telemedicine services to consult physicians by booking digital appointments with their providers.
Eliminate Medical Manual Errors
When healthcare and hospital staff members receive a phone call from patients, they rely on this information provided by them. This can lead to misinterpretation of patient requirements and medical concerns. But, having a written message from patients can convey the right and accurate information through their appointment. Patient portal development via telemedicine has led to effective patient medication management. Before any medication is prescribed by a physician, the patient portal software can automatically check drug-to-allergy based on the diagnosis of the patient and their current medication.
Patient-centric Care Delivery Service
The integration of patient portals in healthcare has shifted its aim towards patient-centric care delivery services. Healthcare organizations are looking towards providing patients access to their health records with an all-time high involving patient engagement, thus, increasing the number of patients demanding the same services. Patient portal development also allows round-the-clock support and maintenance, where patients and providers can exchange health-related information, resolve queries, and review any extra medical notes. Patients can easily access any lab results or health information by going through the patient portal software dashboard.
After learning the advantages, let's understand the patient portal features that can help in enhancing your healthcare business.

Essential Patient Portal Development Features for Your Business
Patient portal development sounds easy, but it isn't that simple. It is necessary to make informed decisions when implementing patient portal systems. Time is necessary to understand the peculiarity of needs and decide the functionalities for your integration. Certain must-have capabilities are necessary for prioritizing your needs. Let's take a look at the features that are must-haves with patient portal development software.
Patient Registration Process
Patient onboarding has become an integral part of healthcare services. The benefits of a patient portal ease the process of registration. It is a must-have feature to integrate easy sign-in registration for patients. Thus, making patient onboarding smooth. The design for the registration process should always be convenient for patients. When signing in to the patient portal, a patient can simply fill up their information form with their medical history, previously prescribed medication, underlying health conditions, and health reports. This data can be stored in the profile of the patients.
Appointment Scheduling Software
Integrating an online appointment scheduling software is an important feature for the patient portal development process as it enables one to book appointments at any given point in time. This can be done regardless of the patient's location. Integrating a calendar with the patient portal, where patients can view their slots and appointment dates that are available. This feature is a game-changer for patient portal development in optimizing time utilization as it automatically minimizes unnecessary appointments beyond the schedule.
Prescription Management Integration
Patient portal must-have feature also includes telemedicine and prescription management integration. Repeated medical procedures, ongoing treatments, and other processes often require access to patients' prescription refills. This process facilitates professionals to increase patient engagement through enterprise mobile app development platforms digitally. This reduces the physical footfall at the organization or clinic premises.
Patient portal development can help integrate a self-service resource to the patients. This helps in shaping healthy habits across the organization and for patients. Providers and admins can integrate health-related information in the form of FAQs and other knowledge bases. This helps to provide streamlined and efficient patient engagement solutions that are custom healthcare software development tailored for patients.
Payment Management Online
Implementation of patient portal software can bring critical and necessary changes in the healthcare sector. Including these features in your patient portal development project enables providers to track patients for any unsettled payment. You can also manage the medical claims and insurance information through this integration and help in increasing the revenue cycle. Hence, saving a lot of time.
Administrating Healthcare Records
Patients see the healthcare record modules and have bird's eye view panels to view their health data. Patients need access to all their reports to see any changes in their reports or their health concerns. This helps them have a complete data mapping of their reports and diagnoses. It can also work as a healthcare repository for patients' treatment progress, blood reports, medication, and X-ray reports.
Having a feature that shoots notification reminders to providers and patients as an integral part of cloud applications development is extremely useful. This feature can send regular and daily reminders to patients regarding appointments, checkups, follow-ups, report pickup, necessary tests, and more. Notification management features can ensure that appointments aren't canceled and no-shows are avoided. It also eliminates the effort of remembering routine checkups.
Admin Task Feature Integration
Integrating admin features is solely designed to help the administrative members to simplify software development consulting for mHealth app development. Having this feature can ensure the tracking of medical supplies in healthcare organizations and manage them with the patient portal software. This feature can also help manage provider, doctor, and nursing schedules.
Final Thoughts
Advent patient portal development platforms can offer various benefits for your medical and healthcare practices. Patient portals have seen an immense increase in brilliant outcomes in healthcare due to their dynamic capabilities. Patient portals in healthcare are significant contributors to streamlining healthcare services and generating better revenue.
From improving patient-provider communication to scheduling appointments, patient portal development services can help your business in integrating unique new features to foster a better patient experience. This also streamlines care delivery efficiency which enhances patient engagement and experience.
After considering this, you now have an idea about patient portal development and make the right informed decisions to integrate what you need. We are here to help guide you through the process.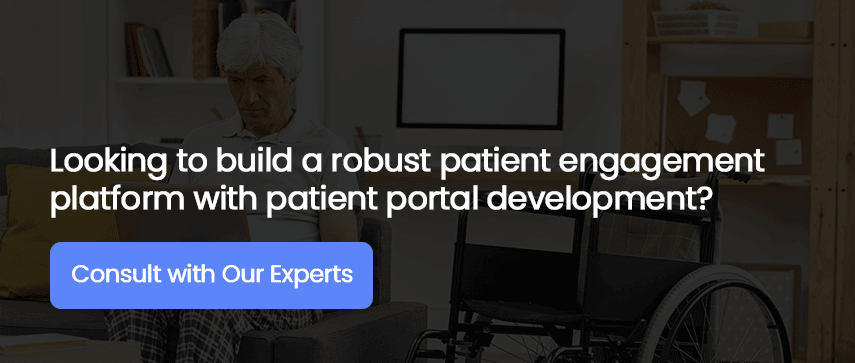 Author's Bio

Shailendra Sinhasane (Shail) is the co-founder and CEO of Mobisoft Infotech. He has been focused on cloud solutions, mobile strategy, cross-platform development, IoT innovations and advising healthcare startups in building scalable products.