Do you have a car rental business or plan to start one? Things aren't the same. COVID-19 disrupted the car rental sector, and now, as the industry bounces back, several changes have emerged. One major trend in the automobile and car rental market is the rise of computer vision technology. While the concept of machine vision in automobiles is not new, car rental companies utilizing scanning solutions for automobile rental is something not seen before.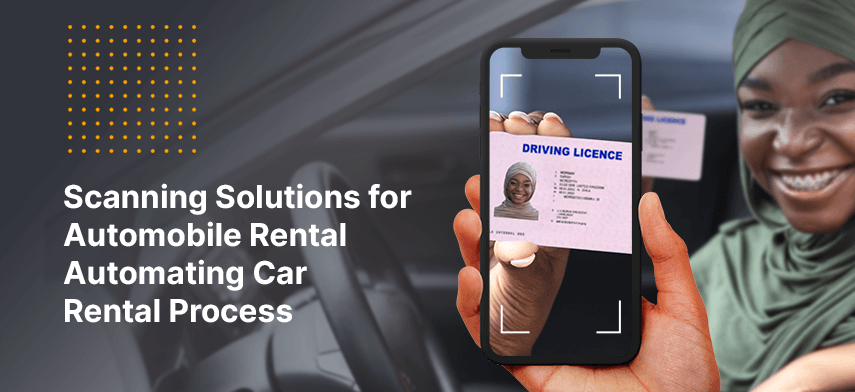 In this post, we'll discuss how computer vision-based digital scanning solutions for automobiles transform the car rental process and why you should care.
The Rise of Machine Vision in the Automobile Industry
Things haven't been easy for the automobile industry during the COVID-19 pandemic. The sudden halt in the export of automotive parts from China disrupted the supply chain. Manufacturing operations stopped in Europe, and assembly plants shut down in the US.
However, the situation is now progressing towards betterment. Over the past few months, the industry has been showing consistent growth and is expected to deliver higher YoY growth in 2021. New vehicle sales in the US, Europe, and China have surged lately. The growth has been significantly higher in China, as about 30 million vehicle sales are projected by 2025.
But keeping aside the market fluctuations, new trends are making their way into the industry. The automobile sector has always been one of the first adopters of emerging technologies, and this year hasn't been any different. The role of machine vision has been growing in the industry for a while.
The present-day automobile manufacturing units, although cutting-edge, struggle with value chain processes like production, logistics, and quality assurance. Computer vision technology offers myriad industrial applications, such as object detection, component surface inspection, and sorting out defective products.
The application of computer vision goes beyond the supply chain and manufacturing. Car rental companies can use digital scanning solutions for automobile that assist in detecting defects, enable seamless booking, and optimize the data collection process.
Ravin.ai, a UK and Israel-based startup, is developing AI-enabled machine vision solutions to inspect vehicles for damage. The startup closed a $4 million seed round and will target car rental companies.
However, if you're a car rental company, you don't need to rely on third-party providers to inspect your vehicles. You can implement an in-house scanning solution that, in addition to vehicle inspection, also enables you to scan barcodes, QR codes, and text.
The text and code scanning capabilities make the car rental process seamless. The traditional car booking procedure involves excessive paperwork and manual approval. A human inspector verifies your identity and documents before approving your ride.
Scanning solutions for automobile rental speed up this process. Customers can scan their driver's license and identity documents without the need for a human inspector. The OCR scanning technology captures your details and sends them for automatic approval. Within seconds, your request will be approved, and you'll be able to begin your ride.
Computer Vision for Car Rental: The Applications and Benefits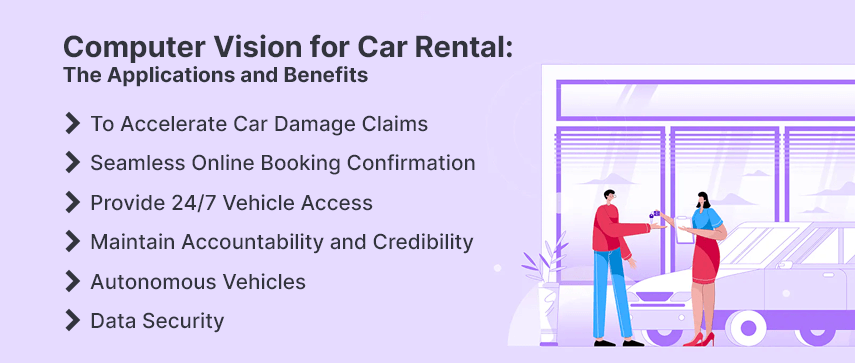 Managing car claims and growing the fleet are two of many challenges car rental companies face. Implementing computer vision can resolve many of these problems.
Let's discuss how scanning solutions for automobile rental can help car rental companies.
1
To Accelerate Car Damage Claims
The latest computer vision algorithms can classify pictures and objects based on image segmentation and object recognition. Car rental companies can leverage these applications to make insurance claims faster and simpler. Computer vision eliminates the need for human inspection, which is often a time and resource-intensive process. These mobile scanning software systems are powered by deep learning and can detect any vehicle damage along with the level of severity.
2
Seamless Online Booking Confirmation
Providing a seamless booking experience is a common challenge faced by car rental companies. Most providers rely on manual rental procedures, which includes identity verification and booking confirmation. On the other hand, digital scanning solutions make the entire process fast, remote, and automated. The customers can use the scanning app to scan their identity or driving license and confirm their identity. This facilitates the car rental process and enables rental companies to offer more services in less time. These computer vision solutions can scan barcodes, QR codes, and text (OCR) for superior, 360-degree round performance.
3
Provide 24/7 Vehicle Access
We live in a happening world where people can require a ride at any hour of the day. With the COVID-19 threat not entirely diminished, car rental companies need to ensure they provide 24/7, flexible, and contactless access to their customers. OCR scanning technology enables you to do that. With a digital scanning mobile app, the customer can scan the barcode on the vehicle to book a ride. At the same time, he can scan his identity card or driver's license to verify his identity on the go. From within the app, the user can make an online payment and confirm the booking.
4
Maintain Accountability and Credibility
Apart from ensuring a superlative customer experience, car rental companies need to maintain credibility and accountability. It's essential to identify each customer, along with his driving history and violations, if any. Modern-day digital scanning solutions for automobile can track the real-time status of vehicles. Keeping track of such measures enables you to create accurate profiles for each customer. If certain customers with a history of over speeding request a ride from you again, you can show them a warning message. Or, in the worst case, you can even refuse to provide a ride.
5
Autonomous Vehicles
Car rental companies are making their way to the self-driving car race. Waymo by Google has partnered with Avis, and Lexuses by Apple has collaborated with Hertz to bring driverless rental cars to the markets. Autonomous vehicles use computer vision technology to track and identify objects on the road. The cars have AI-enabled cameras installed in the front, back, and side of the vehicle. If an object comes close enough to the car, the vision detects it and hits the brakes. Although the concept of driverless cars remains to be in scrutiny, cutting-edge scanning solutions for automobile rental are paving the way for fully-autonomous vehicles.
6
Data Security
Car rental companies have to collect, store, and manage tons of data daily. This includes sensitive data like customers' identity information and driver's license details. Manual management of this data is prone to human negligence, increasing the risk of breach and leaks.
Digital scanning solutions are secured and GS1 compliant. When the users scan their documents, the information is stored and delivered to you in an encrypted form. Besides, all the data is stored in the cloud with strict security protocols.

Why Should Car Rental Companies Care about Computer Vision?
The US car rental market is surging. An IBIS World report showed that the US car rental market is projected to reach $22.3 billion in 2021. The sector took a massive blow due to the COVID-19 pandemic, but things seem to be getting back on track now.
But the pandemic has left entirely transformed customer behavior and expectations. They want instant booking confirmation with minimal human contact. Car rental companies can utilize machine vision to fulfill these requirements.
Here's why all car rental companies should leverage computer vision.
Customers Want Speed

People live busy lives. They don't want to spend half an hour going through the booking and confirmation process before getting their hands on the vehicle. Traditionally, the rental car booking process has been slow. Rental companies deploy human inspectors who confirm the customers' identity and other details before approving the booking.

This process is, by no means, user-friendly. Customers have to wait for a long time before they can confirm the booking and drive the car.

Machine vision resolves this hurdle. It speeds up the identity verification and booking process, thereby saving a lot of time. Customers can scan and verify their identity and make the payment online. This eliminates the need for human inspection and makes the process faster and more convenient.

Manual Procedures Are Expensive

Manual car rental operations require a dedicated workforce. You need to hire full-time inspectors, which will significantly surge your operational costs. And if you're a new car rental business, reducing expenses should be one of your priorities.

By implementing OCR scanning technology, you can replace human inspectors with digital scanning solutions for automobiles. These systems can scan and verify documents, facilitate payments, and analyze damages.

If you're skeptical about the accuracy of these automobile rental software solutions, know that AI-enabled computer vision is more accurate than human inspection. It can catch and read details that aren't otherwise possible for a human.

Manual Operations are Inefficient

Relying on manual operations makes you inefficient. As discussed, a human inspection is time-consuming. Moreover, due to its nature, it is prone to errors. So, you're spending more time and resources and simultaneously taking the risk of costly mistakes.

Therefore, the entire process is inefficient and unproductive. When you use computer vision, you address these issues. Digital scanning is quick, accurate, and cost-effective, which enhances the overall performance and efficiency.

The World Is Moving to Computer Vision

Machine vision is one of the most popular trends in the car rental and automobile industries. It offers myriad applications and benefits across all stages ranging from production and QA to inspection and claims settlement.

We're gradually entering the digital era of car rentals, where human involvement will likely diminish. So, if you're a forward-thinking car rental company, implementing computer vision to your operations should be on the top of your to-do list.
Wrapping Up
While Uber and Lyft have their place, many people are moving to car rentals. They want to drive instead of being accompanied by a driver. And as COVID-19 continues to wreak havoc, people are trying to avoid human contact in every way possible.
As a car rental company, you can cater to this rising demand by implementing computer vision-enabled scanning solutions for automobile rental.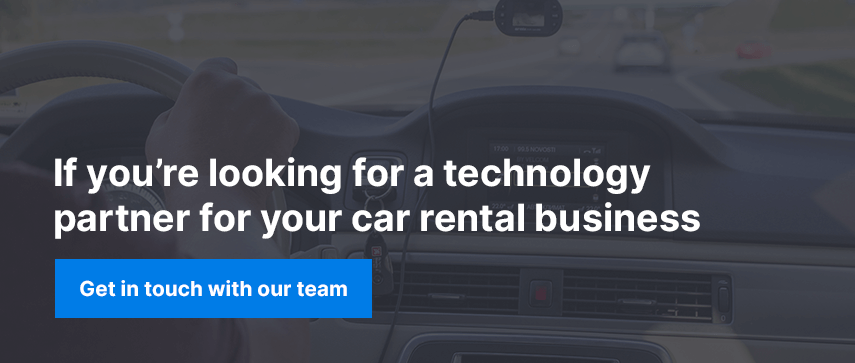 Author's Bio

Nitin Lahoti is the Co-Founder and Director at Mobisoft Infotech. He has 15 years of experience in Design, Business Development and Startups. His expertise is in Product Ideation, UX/UI design, Startup consulting and mentoring. He prefers business readings and loves traveling.