Finding the right vendor for telemedicine is not that much easy for healthcare service providers, as far as the technology is concerned to enable value-based care services. When choosing the perfect vendor of telemedicine software, healthcare organizations need to think about technology, usability, resource management, patient's need, and other relevant factors. Today, we will discuss the same in detail.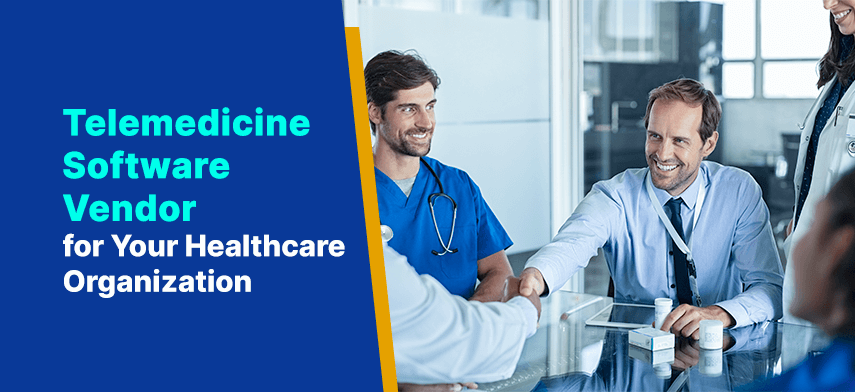 In one of our previous blogs, we discussed the step by step implementation process of telemedicine in your system. But the question is how to select the right telemedicine vendor for your system. You need to think carefully about it and make decisions wisely about telemedicine vendors. You need a reliable vendor who can assist you well and help you to improve your healthcare outcomes while continuing your services.
But Why Selecting The Right Vendor Is Important For Your Business?
You know that something needs to be done to enhance your current healthcare service delivery, and you are ready to implement an advanced digital healthcare system with the support of your internal and external resources. That is a challenging decision for your organization. However, selecting the best resources, i.e., vendors or a technology partner, is of the utmost importance for your business in the longer run. Below are the few other advantages that you will gain because of a telemedicine vendor:
It will help you to identify, design, and deliver the best-in-class delivery process accompanied by modern tools and devices.

It will help you to deal with any challenging situations. Expert advice is always advisable during emergencies.

It will help you to enhance your patients' satisfaction and experience. Ultimately, it will improve your patients' retention rate.

It will help you to manage your resources effectively.

It will support you throughout your healthcare implementation process and improve healthcare outcomes.

It will help you to create a future roadmap for your business.

It will help you to improve your business ROI by reducing acquisition costs, implementation costs, and any other risks while implementing a new system.
Therefore, selecting a vendor who is worthy of a long-term business partnership is always advantageous for any healthcare organization. Now, without further ado, let's start exploring the criteria to select the best vendor.
Criteria To Select And Evaluate The Right Vendor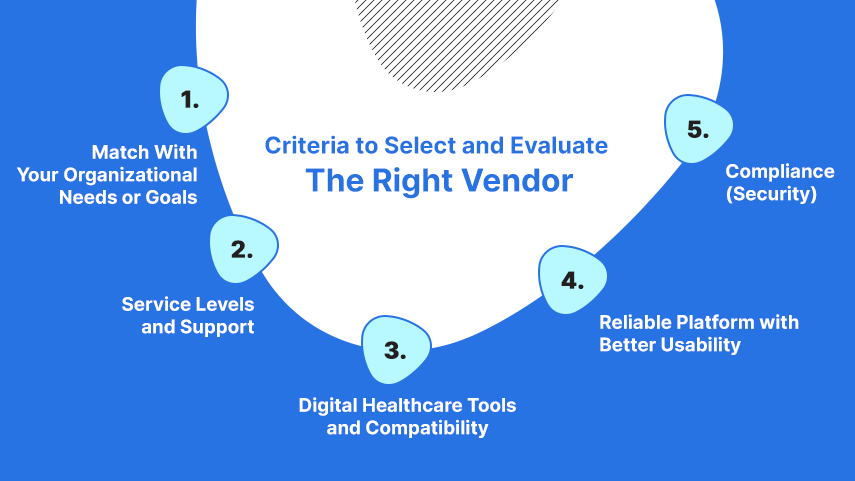 The selection of an ideal service partner is a challenging process. With so many choices of telemedicine software solution vendors, you need to find the potential one who can add value to your services. Hence, you need to research and then filter the potential vendors as per your business requirements. You have to communicate with each vendor regarding their service referrals, case studies, security, privacy, and legal aspects of the solution. After making sure that your healthcare data will be safe in the system as well as considering technical elements, you have to evaluate vendors. Let us understand the criteria to select and evaluate the right vendor for your healthcare organization:
1
Match With Your Organizational Needs or Goals
Before choosing a telemedicine vendor, you need to determine the requirements of your organization, patients, or communities you serve. You need to be ready with the checklist of your requirements before contacting a telemedicine vendor. So that a vendor can customize the telemedicine program as per your needs.
In general, the telemedicine platform should be scalable enough as per your organizations' service areas, including many remote areas. It should not be location-specific; rather, it should be accessible from any location from any patients from their home.
Another essential need of any healthcare organization is the mobility of your patients, physicians, or other care team members. Reliance on digital devices like mobile, tablet, or computer can reduce the movement and enable the virtual interaction. Continuous connectivity improves patients' health and expands your organization's reach. So the telemedicine software should be compatible to access from any device.
Further, also look at your potential ROI while making decisions about your organization system. How will it impact your ROI, business model, or any risks? A cost-effective telemedicine program always looks promising while implementing a new system.
2
Service Levels and Support
Checking with a vendor about the pre-implementation, during, and post-implementation services for your staff, or patients is of utmost importance. Before signing an agreement with your vendor, it is advisable to confirm the level of service or support to enhance your healthcare delivery system. You will also want to make sure about the on-demand support in case your staff or patients are stuck somewhere due to technical or any other issues. A vendor should be able to communicate immediately and resolve the issue through evidence-based protocols.
An ideal telemedicine system should be easy to use and adjustable with existing procedures of your healthcare practice, as the main purpose of implementing a new telemedicine system is to improve healthcare outcomes as in-person care services.
A telemedicine provider should be offering the following customer services:
Telemedicine training to your staff and patients

Access to telemedicine experts when needed

Phone, email and video conference support

Online access for any telemedicine solution related information or guide

Technical assistance

Immediate action and ability to solve problems

Immediate replacement or repair of a defective device
3
Digital Healthcare Tools and Compatibility
Not all telemedicine platforms are similar. They depend on the vendors' technical expertise and resources. Some of them require hardware or software installation, while others do not require any installation. An ideal telemedicine vendor should have the ability to integrate with your current workflow and enhance your care delivery. Furthermore, the platform should be able to capture the essential medical data of patients for better diagnosis and analysis.
Also, you should consider the customization capabilities of the platform as per your existing digital capabilities. The best telemedicine vendor offers customizable packages with different pricing plans to their clients. You should be able to customize the telemedicine platform based on your organization's needs like carts, cases, or other technical integrations. So that you can reduce some financial burden by customizing the platform at the initial stage of implementation of a new system.
Another technical compatibility of the platform should include the following:
The timeline associated with integration or updates

Compatible to integrate with other healthcare systems like EHR

Proper data management of patients and the medical team

Patient access to their data

Interoperable platform

Open system architecture

Internet or local network utilization

Patient location tracking

Real-time data analytics and report generation
4
Reliable Platform with Better Usability
The telemedicine platform should have an intuitive user interface for patients and care team members. The system, the physician or care team uses must be simple and easy to use. Hence, the primary purpose of the system should emphasize on helping the physician or care team to work effectively, while minimizing the learning curve of the system.
An ideal telemedicine system makes communication between patients and physicians easier. Finding a better platform that can help you and your team to use telecommunication technology to transmit the medical data in the form of image, video, or text efficiently. It should also be compatible enough to use multi-specialty healthcare applications.
"Higher healthcare productivity, satisfaction, lesser needs of training, and low error rates define the good usability of a telemedicine platform."
Simple design flows with icons, dashboard screen, and reporting structures makes it easy for the user to understand the system. Patients can also use the solution quickly, i.e., book an appointment, connect with physicians when needed. Ultimately, it helps to improve your patient experience. Hence, selecting a reliable solution with an easy to use interface is always beneficial for your healthcare practice.
5
Compliance (Security)
A perfect telemedicine solution must comply with strict security compliances. Hence, a telemedicine vendor must meet the regulatory requirements of standard rules and regulations such as HIPAA compliance, FDA, other privacy, and security regulations, to protect and secure patient health information.
A HIPAA compliant telemedicine platform must ensure that it,
Restricts the data access to authorized users

Uses secure, encrypted communication technologies

Authorizes and validates user identity

Protects against inappropriate access to protected data

Technical configurations of all components

Prevents, detect and correct security breaches

Supports third party audits

Complies local compliances
If a vendor has considered all the security guidelines and medical certifications for the telemedicine platform, then it is trusted by most of the healthcare system. And a vendor is also serious about its work and has experience in healthcare practices.

Useful Tips To Consider While Choosing A Telemedicine Vendor Over Another One
For any healthcare organization, patient satisfaction and quality care services are on top priority. Patients, their families, friends are your customers. With healthcare technologies and smart devices, their expectations of receiving care have increased. Hence, healthcare organizations should focus on patient-centered care and choose the telemedicine vendor accordingly. Here are a few tips that you should consider when you have multiple vendors in your list, and confused with whom to go ahead:
1
Review the vendors' business and their reputation in the marketplace:
Financial stability

Experience

Affiliations

List of customers and testimonials

Expertise in offering telemedicine services

Knowledge of legal requirements
2
How have they developed their software? Compare the following:
Digital capabilities of the platform

UI/UX of the software

Customization modules

Compatibility with your existing infrastructure

Extra software or hardware integration

Security encryption
3
Compare costing of the software
Compare the pricing plans of each telemedicine vendor and select the best with a cost-effective plan.

Check their extra costs for installation as well as equipment or any other set up need.
4
Compare vendors' approach to customer support
Check their technical support guidelines for your staff and patients.

Also, consider their approach to solving any technical query.
Conclusion
Selecting the best telemedicine vendor is a complicated task for any healthcare organization. A vendor whose platform is scalable, encrypted, user-friendly, customizable, versatile, and advanced with the latest technology is the one you should consider to improve your ROI. By focusing on what you want and then narrowing down points that are beneficial to enhance the healthcare delivery system, you can select the perfect vendor.
While selecting the vendor, it is essential not to rely on the sales presentation or pitch. Also, ask for their product trails, the process to integrate, usage rates at their client's location, training, patient engagement management, and support. If you do not have an in-house team to support telemedicine, then you can also ask for a value-added service that they can provide. In fact, discussing your expectations in advance with your vendor is also crucial while signing an agreement to scale your business for the future. Thus, checking and comparing essential factors can help you to find the right vendor for your organization.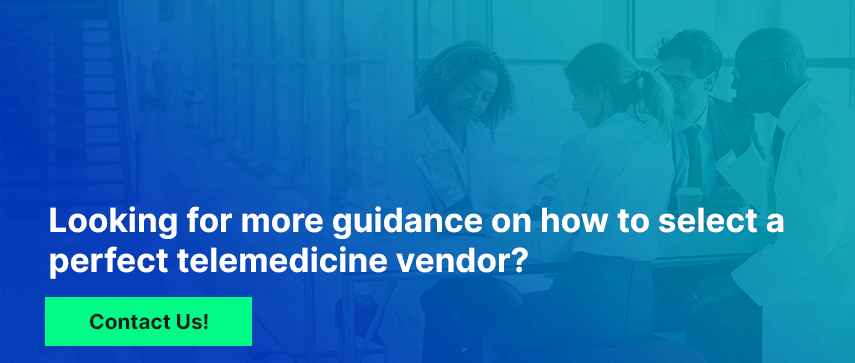 Author's Bio

Shoeb Ahmad, with an experience of 22 years in Digital World, heads Digital Marketing at Mobisoft Infotech. He has a rich experience in SEM, SEO, Social Media & other verticals of Digital Media. He also has been a consultant for a variety of industries, enterprises & startups. He loves reading & traveling. He often writes on various forums since he believes 'Knowledge increases by sharing.'