Everything is turning digital be it shopping for your groceries or booking an appointment with your doctor. E-business, e-commerce, e-solutions- you have heard it all. Now here comes the concept of e-health which involves the utilization of information and communication technologies in healthcare. e-health expands over a vast range of activities and approaches, and its scope is also extensive.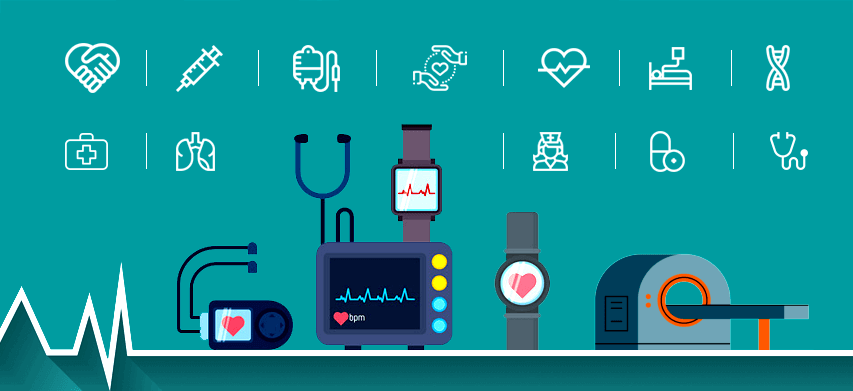 The use of the internet and smartphones has brought an immense amount of power in people's hands, and technologies like IoT are changing the medical industry. People are now more concerned about their health and want to be in control of what they need and demand.
e-health has existed for a while with the use of computers and digital equipment, but now it has taken a completely new turn. Today we will check out the present day scope and range of e-health and how it can transform the very nature of the healthcare industry.
But before going any further, let's see how different organizations in the world define e-health and lay down its scope, aim, and objectives from a digital perspective.
What is e-health?
e-health is being talked about increasingly, but there isn't any specific definition tied to it.
According to Intel, e-health involves the concerted effort initiated by key players in healthcare and superior technologies to optimize the benefits by integrating healthcare and internet.
The Journal of Medical Internet Research calls ehealth as a nascent stage of a combination of public health, businesses, and medical informatics related to health services and information obtained or exchanged through the internet and other relevant resources.
When we consider the scope of e-health, the term encompasses technical development along with a physiological well being. The aim would be to improve healthcare, nationally, regionally, locally and on a worldwide basis through the use of information infrastructure.
According to the World Health Organization (WHO), ehealth is the secure and cost-effective use of information and communication technologies to facilitate health and medical fields such as healthcare, health education, health surveillance, and research and knowledge.
If we go by the European Commission, ehealth involves the utilization of present-day information and communication technologies to satisfy patient and citizens' needs and aid healthcare providers, healthcare professionals as well as policymakers.
As you can see, e-health cannot be tied down to a specific set of activities or principles. It extends over a vast range of territory. It's perhaps a reason why medical industry experts and scientists debate over the exact implications of the term. Sometimes, ehealth is also referred to as Health IT.
The Objectives of e-health
e-health isn't just to ensure that you get access to proper healthcare when you need it. It's a method to measure your daily health data and progress so that you are on top of your health and fitness goals while medical professionals have access to the data they want when they need.
The objectives of e-health are-
Concerned with improving the efficiency in healthcare resulting in a reduction of cost. It can prevent unnecessary interventions or diagnostics by improved communication between healthcare organizations.

The above process also improves the quality of healthcare. e-health enables patients to compare and choose the best quality providers with the assurance of efficient service.

e-health interventions and approaches depend heavily on scientific evidence and recommended only after a thorough evaluation.

Patients and consumers can have their own health data and records under e-health approaches and form knowledge of medications. It also enables evidence-based patient choice and personalized medicine.

e-health encourages a healthy relationship between healthcare providers and patients with equal contribution from both parties in care delivery.

Patients and physicians can receive awareness and continued education through online resources on medical education.

Electronic records of e-health will facilitate the smooth and unrestricted flow of information among various health organizations.

e-health can expand the reach of healthcare in areas without clinics or primary healthcare settings. Online global providers can offer consultation, awareness, and health services over the internet to help the people of the deprived areas. e-health should also be easy to use, and people should find it an exciting option to facilitate their health status.
The Implications of e-health in Medical Industry
e-health brings a potential rage of opportunities that can aid and facilitate healthcare. Let's explore the e-health benefits and find their use in an everyday medical aspect.
Electronic Medical Records (EMR) and Electronic Health Records (EHR)

The electronic records of patients include different reports, clinical administration procedures, prescribing and digital imaging, and archiving systems. e-health can provide a central framework where all the records are owned by the patients and shared with due concern to intended stakeholders for reference.

Telehealth Systems


Telemedicine and other communication technologies can be used to exchange medical data and information without meeting face to face. It increases the availability of treatment, access to healthcare- all in a cost-effective way to people who don't have access to proper healthcare facilities.
Consumer Health Monitoring Device

Many gadgets and websites have come up which deliver consumers vital statistics about their body activities like heart rate, pulse rate and so on. Along with these, there are numerous health mobile apps that help you track your health and physical activities.
These are easy to use, and some can even be worn around your wrist, just like a watch which displays all your vital stats.
Technologically Driven Clinical IT Systems

e-health also encompasses all the types of equipment, tools, and medical machinery used in clinical settings. Use of information and communication technology in such settings will lead to improved diagnosis and treatments for nursing IT health infrastructure, radiology, digital assisted diagnosis, medical imaging procedures, and surgery planning and training sessions.

The Nation-Wide Health Coverage One Needs

As we have discussed, e-health can break the boundaries of geographical borders and create an international, national, and regional health network. The broadened reach will give access to healthcare to people in poor and underdeveloped areas.

Online Health Awareness Programs

e-health can be the foundation on which numerous health awareness, prevention, and treatment information can be presented. Health portals, self-help guides, and journals can be promoted online to spread health information and develop healthy habits in the population.

Collection of Data and Analytics

The medical and health records under the e-health approach hold a wide variety of information of interest to scientists and medical experts. They can collect the required data and information and analyze it to track patterns and develop insights which ultimately lead to better treatment plans and positive patient outcomes.

Medical Support IT Tools

e-health technologies can also be used to manage supply chain activities and distribution of pharmaceutical and drug companies. It can help in billing systems, setting up schedules, hospital administration, and other support processes for clinical decisions.

The technology also improves accountability and transparency in the procedures and helps expand care delivery beyond boundaries. e-health paves the way to access digital health technologies by cutting down hindrances as distance and disability.

Reduction of Clinical Errors and Diagnosis Accuracy

e-health doesn't need human intervention for the recording of data which eliminates any chances of human errors omissions. The system facilitates patient-centric care delivery using patient-specific data and clinical evidence.

It also makes the process affordable and streamlines the workflow bringing down waiting times and inefficiency and uses the digital health resources optimally.
Opportunities for e-health Market Growth
Here are some of the factors that will drive in the e-health market growth in the next few years and potentially affect the lives of millions of users.
Increased awareness of patients about their own health outside clinical settings
Availability of options and information on medical procedures and treatments
Health consciousness of the present generation
Evidence of the contributions of e-health and wide acceptance by the medical community
Reduction of cost of technologies such as cloud computing, software-as-a-service (SaaS), and hosted services
Increased competition in the market which keeps prices reasonable
State and international regulations and recommendations recognizing the importance and benefits of e-health
Overall pressure from the population to bring down health costs
Health concern of senior patients and incidents of chronic diseases
Challenges Faced by e-health Industry
While the going would be generally good, there are a few things that we do need to keep in mind. Here is a round-up of the challenges the e-health industry has to deal with in the near future.
Some view changes in a negative way, without understanding the potential ahead
Lack of evidence into the effectiveness of some e-health procedures
Lack of user-friendliness for the end users
Unavailability of supporting resources – like a working internet or a computer
Expensive technology with high-cost tools and applications
Increased service and overhead costs including maintenance
Stare regulations dealing with patient privacy and ownership
Lack of qualified and skilled talents
Interoperability problems
Substandard protocols of the healthcare
Inadequate funding for hospitals for e-health research and development
Complex legal complications
e-health Is Going to Make a Big Impact on Healthcare
No matter the challenges faced by e-health it is going to stay and change the face of healthcare. It will empower patients, physicians, and healthcare providers changing how care is delivered all over the world.
You can also take a look at the global e-health market which encompasses a lot of applications and approaches. According to the Integrating Healthcare: The Role and Value of Mobile Operators in eHealth, the publisher GSMA predicted the global e-health market to grow from $96 billion in 2010 to $160 billion in 2015- and the stats talk about figures of three years back! With skilled digital Healthcare technology partners, the market continues to grow at a steady rate, and is here to stay to make a difference.
Author's Bio

Shailendra Sinhasane (Shail) is the co-founder and CEO of Mobisoft Infotech. He has been focused on cloud solutions, mobile strategy, cross-platform development, IoT innovations and advising healthcare startups in building scalable products.