Undoubtedly, transportation plays a major role in worldwide logistics and supply chain management, facilitating the overall economic growth. In the last couple of years, this industry has gone through some major technological shifts. From an innovative logistics management system to data analytics, IoT to cloud computing, Augmented Reality to enterprise mobility solutions, technology is being utilized in many ways to make the transportation and logistics business seamless, accurate and fast. More and more service providers are now depending on these innovations to optimize space utilization in warehouses, autonomous vehicles, etc. with total control on wastage and limitation in fuel cost.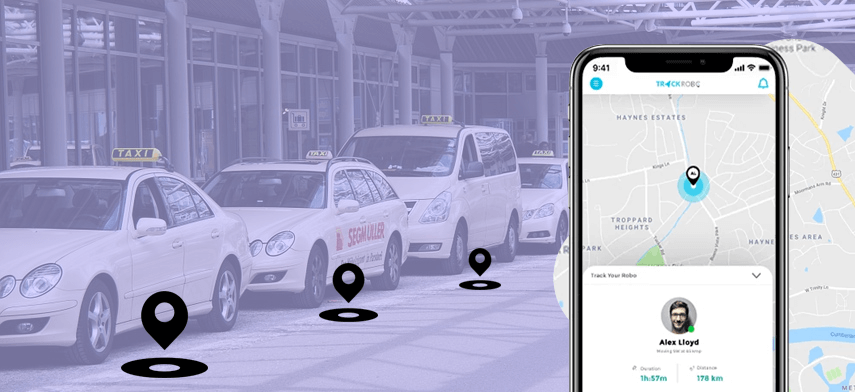 In today's post, we are going to discuss one such technology-driven solution – a fleet tracking system. This is widely used to improve operational efficiency in the transportation and logistics business. This system is available in a smartphone app which has made the whole process of using it more hassle-free.
Before starting the discussion on how the fleet tracking app solution works and how you can take maximum benefits from this technology, let's have a look at what it actually is.
What is Fleet Tracking Technology?
Fleet or vehicle tracking is powered by GPS technology. The main aim of using this technology is to track a vehicle's location with the help of a software interface that can display vehicle information. Basically, it helps in the fleet management process.

To collect vehicle information, a fleet tracking device is installed in the vehicle that needs to be tracked. The device captures various information related to the vehicle, such as fuel consumption, engine status, etc. and matches the information with the location.

Location information is mostly generated by GPS technology. However, there are some other technologies as well, such as

GLObal NAvigation Satellite System (

GLONASS), etc., used for tracking and gathering location information.

The information that a tracking system collects is later passed on a software interface of a computer program or cloud computing system. This information can be accessed through a vehicle tracking app as well. Through such an app the fleet owners can get alerts about particular positions and activities of vehicles.
Considering the origin of a vehicle tracking system, this is not actually a recent technology. It was first used long back, in 1978 when the GPS satellite constellation was operated in space. GPS in the fleet was earlier used in the military, helping the units stay updated about the important vehicles during missions.
With decades of technological advancement, the accessibility of GPS powered fleet tracking system has been increased. The internet has become faster than before and the types of GPS tracking systems are also varied now.
Some of the commonly used GPS tracking systems are:
Personal Tracker

Asset Tracker

Celular-based Tracker

Satellite-based Tracker
Is Fleet Tracking System Accessible to Business of All Sizes?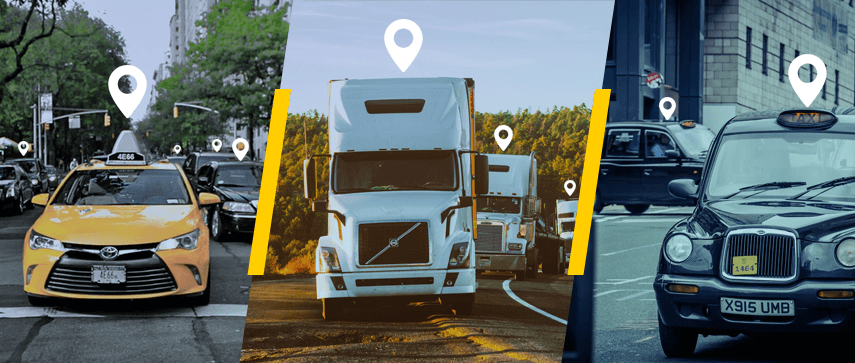 Is the fleet tracking solution used only by logistics and transport companies? Actually, it is not. Companies from different sectors and of various sizes that use vehicles for their operations can use a fleet tracking system. From cleaning to construction, manufacturing to waste management – various industries are now enjoying the benefits that a fleet tracking system provides. All the industries can minimize operating costs and increase efficiency with the help of this vehicle tracking app. Some can even protect their goods from theft. In short, there is no definite size of a company that can use the fleet tracking system.
Basically, companies start using this system because they have one or more of the below-mentioned requirements:
They want to reduce their operating expenses

They want to keep tabs on their vehicles

They want to make their work paperless by automating vehicle management process and depending on a digital system

They want to be acquiescent, spend less time and minimize investment on resources for fleet and product management.
After understanding the wide accessibility of the fleet tracking system, you must be intrigued to embrace it for your business. But, before making the final decision, you need to know about laws from different parts of the world on the usage and application of fleet tracking technology.
What Does the Law Say about Fleet Tracking?
The law regarding the usage and application of fleet tracking varies from state to state. According to New South Wales government rules, a person should track a vehicle or its driver after receiving consent. Before tracking a vehicle, companies need to put a visible notice on it, mentioning that it is subjected to be surveilled.
According to the Government of Victoria, the data that gets collected during tracking should be kept securely by the company and provided to the law enforcement authority with a genuine warrant. Also, a person should not damage or remove an installed tracking device.
In various parts of Australia, surveilling a person with a tracking device without taking prior consent is a punishable offense.
So, the bottom line is, if you want to use a fleet tracking system in your business, you must be aware of what your state law says about it. Follow the regulations and start taking advantage of this advanced technology.
What Are the Main Features of Fleet Tracking?
All the fleet tracking systems have some common basic features, such as –
1
Real-time Location
It tracks the real-time location of a vehicle and shows it on a map.
2
Driving History
It shares information about different trips completed by a vehicle.
3
Notification Alerts
It gives alert notifications not only when the driver is speeding up or going slow beyond a certain limit but also when the driver starts a vehicle or makes a halt.
4
Fleet Summary Report
It shares a report that includes data about the fleet for a particular time frame. This data can be viewed and exported.
Other than the above basic features there are some additional features available in driver tracking apps where drivers who use other vehicles can also be tracked. These are:
5
Driver ID
The system identifies every driver and makes sure only the authorized ones have access to the vehicles. If there is any unauthorized access, the system starts giving alerts.
6
Power Take-off (PTO)
With Power take-off monitoring, you can understand how efficient all your drivers are. It lets you know the status of connected equipment. PTO added with fleet tracking improves vehicle safety as well.
7
Panic Button
Drivers can use this during emergency situations.
You have already understood the basic and common features of a fleet tracking system. Now let's have a look at the advanced features of a complete vehicle or GPS tracking system.
8
Fuel Card Integration
This data monitoring system integrated with a GPS tracking system enables fleet owners to track the fuel expenses of their vehicles.
9
Fuel Management
To check, maintain, and control fuel consumption of fleet this feature is highly useful.
10
Vehicle Maintenance & Management
Complete fleet maintenance and management processes can automatically be monitored on the system. There is a maintenance calendar, a database of the maintenance vendors, tracking facility of the maintenance expenses, etc.
After going through the amazing features of the fleet tracking system, let's have a look at why your business needs to implement this system today.
Why Do Businesses Need to Implement a Fleet Tracking System?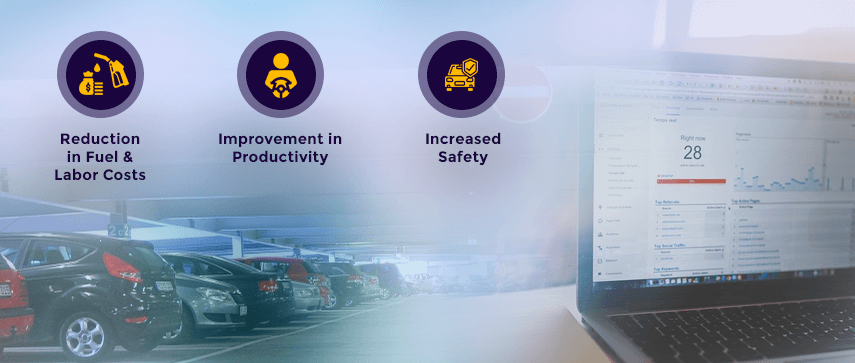 Below are the major benefits a business can get after implementing a fleet tracking system:
Reduction in Fuel & Labor Costs

With a fleet GPS fleet tracking app, owners can reduce fuel waste that occurs usually because of idle driving, unnecessary stoppages, and unauthorized accesses. When a vehicle is tracked, its complete activities are in control of the owner. As a result, fuel consumption becomes restricted and fleet efficiency becomes improved.

The labor costs can also be in check with fleet tracking. You can track your drivers' productivity through the driver tracking app. There is no need to maintain any timesheet or deal with any dispute related to card punching by the employees and drivers. When you track your fleet, you can monitor the activities of your workers as well.

Improvement in Productivity

With a fleet tracking system, a company can improve its dispatching process by making sure that the right driver is dispatched every time. As the system provides correct details about the real-time traffic information and other details, a dispatcher can easily find out the most efficient routes for particular drivers. This feature is helpful for drivers, especially during extreme weather conditions. With timely alerts, the dispatchers can reroute the drivers or a fleet whenever needed.

Increased Safety

As a fleet tracking system provides proper navigation, it increases the safety of the drivers and fleet by keeping the drivers on the right track with accurate directions. Fleet owners can also communicate with the drivers through this system. Also, a fleet tracking system can prevent unauthorized access. Thus, it is easy to avoid possible emergency situations that can be caused by unreliable vehicles.
Wrapping it up,
Hopefully, this post has made you understand how a fleet tracking system is turning into a necessity for all the businesses that have any kind of transportation involved in their operations. If you have not adopted this technology-driven innovative solution for your business yet, start using it. Make your business operation faster and seamless, save money and improve customer satisfaction easily.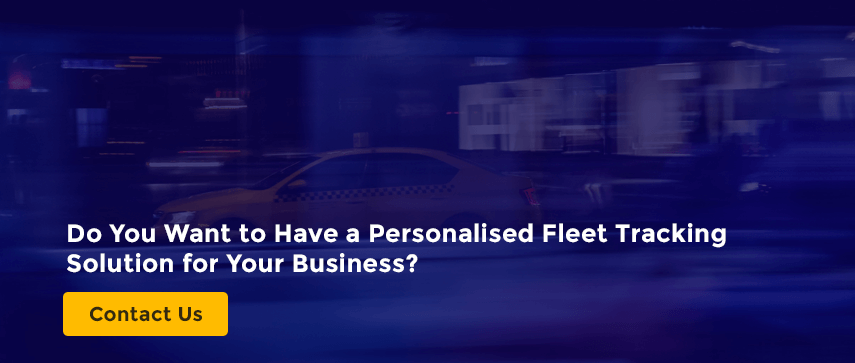 Author's Bio

Nitin Lahoti is the Co-Founder and Director at Mobisoft Infotech. He has 15 years of experience in Design, Business Development and Startups. His expertise is in Product Ideation, UX/UI design, Startup consulting and mentoring. He prefers business readings and loves traveling.