The rise of the on-demand economy has completely changed how the delivery and logistics industry operates in India. Thanks to the ubiquity of smartphones and on-demand delivery apps, moving something from point A to point B is just a push of a button away.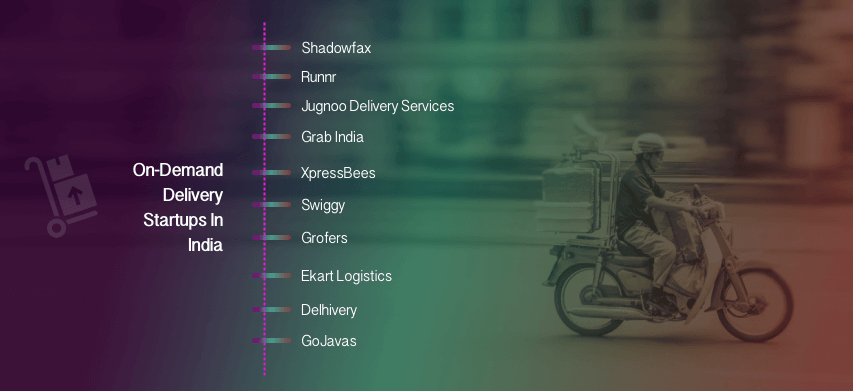 You order a dress online and can get it delivered the next day. Through Swiggy you can order food from your favorite restaurant and get it delivered within 30 minutes at your doorstep!
The need to be served instantly has led to the rise of many on-demand delivery startups in India who are capitalizing on this essential need. More players are joining the race as the Indian logistics market is set to reach US$ 307 billion by 2020.
In particular, the on-demand food delivery industry is set to earn a revenue of US$3,080m in 2018. The e-commerce related logistic segment will grow at a CAGR of 48% and stand at US$ 2.2 billion by 2020, according to KPMG.
Jump to
In light of such huge potential, let's check out 10 of the most talked about on-demand delivery startups in India.
This startup is a notable success story in the on-demand delivery space. Founded in 2015 by Vaibhav Khandelwal and Abhishek Bansal, the venture recorded gross revenue of Rs 34.07 crore for 2017.

The duo started their operations focusing on food delivery, but have expanded the service portfolio to include groceries, pharmacy, and other items. It has also moved into the B2B industry covering over 70 cities across India.



The company offers 100% mobile activated deliveries utilizing their strong network of 7,000+ delivery partners and over 400 vehicles. The on-demand logistics solution provider enables food deliveries for over 1,000 restaurants across India. It recently acquired business assets of NuvoEx, an e-commerce-focused logistics business, for an undisclosed amount to expand its operations into more Indian cities.

Runnr is another Bangalore based on-demand delivery company that was recently

acquired by the food delivery service Zomato

to improve its delivery services.

Runnr continues to exist as an independent firm after the acquisition, focusing on its on-demand logistic services. Zomato will leverage its robust delivery fleet to provide better food delivery services.



The company started its journey in 2015 as a B2B hyperlocal on-demand delivery company. Soon it acquired TinyOwl and launched its new service with a customer-centric app. It fulfills more than 300,000 orders per month and offers instant delivery services across different Indian cities.

You can find Jugnoo offering their on-demand delivery service in over 40 cities of India. The company uses innovative ways to pick up, load, deliver and unload a wide array of products.

Apart from bikes and vehicles, you can get your items delivered even in auto rickshaws cutting down the cost. Jugnoo doesn't only deliver normal items like other on-demand delivery startups, they also have some unique services like wedding card and tiffin delivery and collection of cheques, documents, address verification and more.


You can almost send anything using their app which provides real-time GPS tracking of the driver with ETA and other details. The startup aims to provide a seamless delivery service to both consumers and businesses.

Grab operates in 23 Indian cities as a hyperlocal on-demand delivery platform. The company uses its bike fleet to close the last mile delivery gap between merchants and customers.





Businesses from different industries like groceries, e-commerce, pharmacy, retail, food, and others can use the service to book delivery requests and obtain real-time updates.





Just like other on-demand delivery startups, Grab uses a mobile app for ordering and tracking functions. Their fleet is made up of biker delivery boys, most of whom work as part-timers.





Grab has already raised Rs 7.8 crore since its inception in 2015 and looking forward to accumulating more to expand its operations.

XpressBees is a Pune based logistics company specializing in e-commerce deliveries. It offers services to e-commerce merchants who can send their products directly to the consumers to remote pin codes across India.
XpressBees also provides additional services like cash on delivery where they deposit the cash in the merchant's account. They also take care of returns and vendor pickups, aiming to offer a complete logistics solution for online merchants.
China's online e-commerce giant Alibaba Group Holdings has very recently infused $35 Mn in the startup to build a foundation for its own delivery network in India.
Swiggy is a very popular online food delivery app in India. Operating its own fleet, it delivers food ordered from its partner restaurants through the app or website to customer doorsteps.
Currently, the services are available in eight Indian cities with more than 9,000 partner restaurants. To gain an edge in the food delivery market, Swiggy now also offers deliveries from far away eateries for a small fee. The company is based in Bangalore and founded by three IIT and IIM alumni members.
Recently there has been news about Naspers Ltd. providing funding worth Rs 1,200 crore to the on-demand delivery startup.
The grocery delivery app company is a popular name in the hyperlocal space. Grofers has already created a huge market delivering grocery to its customers in 17 cities across India.
The online marketplace can be accessed via both mobile apps and the web to place orders. Grofers collects the items from its partner stores and carries out the delivery job.
Apart from groceries Grofers also sells fruits and vegetables, home and kitchen accessories, furnishing and home products, personal care and household need products.
The company was started in 2013 in the city of Gurgaon and has received exponential growth. It generated revenue of 1,000 crores in 2017 with a jump of nearly 200% in average daily order volumes.
Flipkart's in-house logistics and supply chain company Ekart has already established itself as an important player in the on-demand goods delivery industry.
The company was acquired in 2009 from Flipkart's popular seller WS Retail and is responsible for most of the deliveries of the Indian e-commerce giant. Ekart has a huge network which carries out 10 million orders in a month across 3,800 pin codes.
Ekart also offers services to other merchants, retailers, sellers and companies outside the Flipkart group. Last November the company got a funding of Rs 1,632 cr to boost its operations from Klick2Shop Logistics Services International.
Through Ekart, Flipkart is eyeing to compete with Amazon which runs the very popular prime delivery service.
Delhivery

started out from Gurgaon as a courier service but soon grew to cater to the e-commerce market.

It offers complete logistics solutions ranging from delivery, fulfillment, packaging, warehousing, order management and others to businesses from various sectors like auto, fashion, pharmaceuticals, and consumer electronics.
The company serves in 950 Indian cities covering 9,250 pin codes. It is also the most funded logistics company in India with a valuation of 575 US million dollars.
The company has experienced steady growth since it was founded in 2011. The B2B operations of Delhivery have accounted for most of its recent growth.

GoJavas manages the logistics and supply chain needs of e-commerce platforms and businesses. GoJavas was started in 2013 and offers delivery and ancillary services like fulfillment, cash on delivery, try and buy, returns and refunds. Currently, it operates in over 100 cities in India across 2,500 pin codes. The company takes a customer-centric approach in its services leveraging its large network and robust on-demand technology platform. You can track your orders and get notifications for any updates.
Wrapping Up!!
In India, the on-demand delivery and logistics industry has got a huge boost after the onset of the e-commerce market. A number of startups are tapping into the huge opportunity at hand with the innovative use of on-demand app solutions.
Getting things delivered has never been easier whether you run a local flower shop owner or someone who wants to send a courier to his/her family. Startups are catering to all types of on-demand delivery use cases – B2B, B2C, and P2P (peer-to-peer). Mobile technology is being utilized extensively to improve everything from fleet utilization, supply chain management to last-mile connectivity.
The opportunity to transform logistics is huge in India currently and is only going to get bigger. The sheer number of startups and the funding being received by them is a testament to it.
Mobisoft offers a robust on-demand delivery platform development solution for startups and businesses that includes native apps for consumers, delivery agents, and a powerful web-based admin panel to seamlessly manage the operations.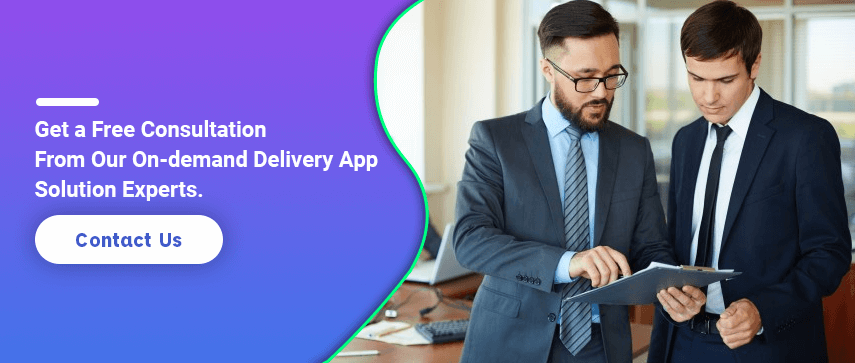 Author's Bio

Nitin Lahoti is the Co-Founder and Director at Mobisoft Infotech. He has 14 years of experience in Design, Business Development and Startups. His expertise is in Product Ideation, UX/UI design, Startup consulting and mentoring. He prefers business readings and loves traveling.