Today, the healthcare industry is facing overburdening expenditures that are increasing due to stringent regulatory standards and high demand. These challenges can pressurize the entire industry to reduce the quality and urgency of patient care services.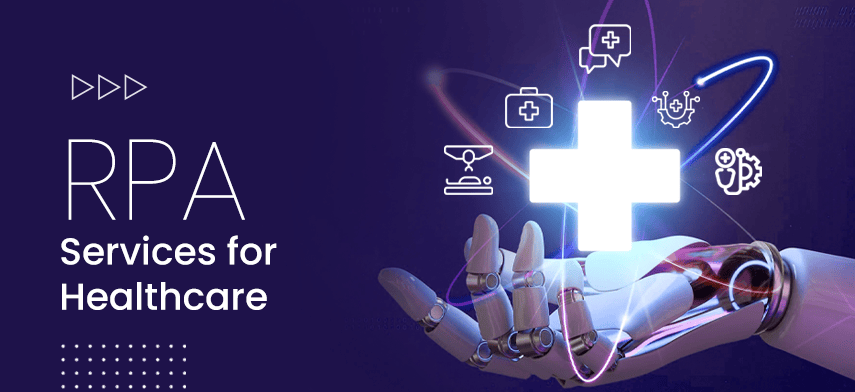 The motivation toward reducing healthcare costs is being countered by the need to constantly improve the patient care experience and meet healthcare standards. This often requires an onerous of reporting, paperwork, and data integration.
Healthcare organizations have several repetitive processes and decisions that rely completely on the accuracy and availability of patient data and medical information. Hence, automation in healthcare provides the solutions to such rising challenges. Patient onboarding, follow-ups, observing appointment cancellations and no-shows, prescription management, claims processing, and medical billing is such repetitive tasks. These tasks are common across all healthcare industry platforms.
Therefore, to combat this repetitiveness and deliver the perfect healthcare services to patients create a sustainable environment for robotic process automation in healthcare. RPA in healthcare increases care delivery efficiencies, improves patient experience, and reduces overall costs.
Before understanding the implementation of RPA in healthcare, let's understand what is robotic process automation in healthcare.
What is Robotic Process Automation in Healthcare?
Healthcare robotic process automation doesn't involve robotic carriers or mean-delivery drones. Instead, we will be discussing the ingenious bots or pre-programmed software agents that are responsible for inhabiting the accounting insurance, patient engagement systems, and laboratory information to name a few of its integration in healthcare automation.
An application of RPA in healthcare includes feeding structured data, stored in healthcare databases, is to span patient demographics, financial information, addresses, names, and more. These bots help to execute rule-oriented repetitive tasks to reduce labor-intensive tasks.
To clarify, healthcare automation solutions with RPA are prevalent in the healthcare industry and can be best described as software integration that orchestrates other apps. It also helps to perform tedious tasks in the back office without any human assistance. Hence, it frees healthcare providers' time and enables them to conduct diagnostic and treatment work and improve patient-provider communication and interactions. Particularly, it is observed that intelligent software agents are capable of procession transactions, triggering responses, manipulating data, and conversing with external and internal IT systems on their own.
Let's understand the robotic process automation protocols and how it efficiently enables healthcare providers to improve their care delivery services to enhance the patient experience.
Scope of RPA Services for Healthcare in Care Delivery Operations
When you integrate robotic process automation in healthcare, it assists to streamline healthcare processes and allows organizations to be more adaptable, competitive, and scalable. It also helps in improving work performance, effectiveness, and participation scales that enhance the elimination of routine tasks and chores. Hence, decreasing employee shift lengths and automating the entire repetitive task processes.
RPA in healthcare offers high value to healthcare delivery services with minimal involvement of risks while expediting digital transformation and innovation. To better grasp the concept of the healthcare robotic automation process, let's find out the technologies and applications that initiate automation in healthcare industry with intelligent bot operations.
RPA Applications in Healthcare Organizations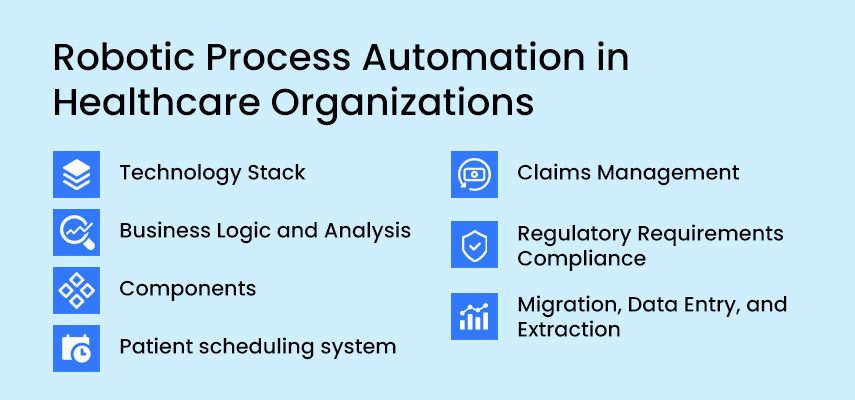 For a better understanding of RPA applications in the healthcare industry, here's a list that will be beneficial for your healthcare organizations.
The Technology Stack

Robotic process automation healthcare relies efficiently on several programming languages and frameworks. These technology stacks include Dot Net, Python, and Java. apart from this, it has well-relational databases and front-end technologies like JavaScript that improve digital transformation in healthcare.

Business Logic and Analysis

Before deploying RPA services for healthcare, employing a skilled business analyst contemplates the workflow and system of healthcare organizations and collects data from stakeholder feedback. On the basis of this information, automation opportunities and inefficient processes are determined. Following this step, process developers have the opportunity to document and program rules to event-trigger instructions for RPA bots enabling better healthcare system optimization.

Components

Healthcare robotic process automation is a multi-layered system that has integrated features like extensions, recorders, bots, robot control units, and development studios. By integrating recorders, the bots are able to watch healthcare providers and staff interact with applications. This includes UI elements. Remembering object properties, types of specific data, mimicking user actions, and more like hovering, scrolling, and copying of data.

This happens when similar tasks are faced. The development studio identifies automating healthcare processes and workflows that are designed to ease patient engagement. With assistance from extensions, bots can manipulate and extract data kept in other healthcare systems. Finally, the robotic control unit serves as an administrative panel that further integrates setting up, managing, and executing the intelligent software.

Patient scheduling system

Patients can today, book appointments without communicating or interacting with healthcare workers because of automation in healthcare industry. By automating healthcare processes, RPA in healthcare has integrated technologies to improve patient scheduling software and systems. Along with the reduced requirements for resource allocation for booking appointments, the RPA applications for this system strengthen customer relations. Thus, allowing patients to schedule and book appointments more swiftly.

Claims Management Strategies

By following the healthcare service provision, accounting methods may take time to complete a claim due to the monotonous and manual tasks involved in medical billing procedures. Claims management processes information via recording, analyzing, and processing files and information amongst other things.

This has enabled robotic process automation in healthcare to improve billing structures across healthcare industries. Additionally, RPA-driven claims management solutions reduce human errors during medical billing procedures. This has been a good implementation for healthcare providers.

Regulatory Requirements Compliance

Healthcare providers are responsible for recording and tracking every workflow in various stages to organize the log files when using automation in healthcare. This allows organizations to comply with the process of auditing. Meanwhile, since bots are performing these operations, robotic process automation in healthcare potentially increases the confidentiality of data by a large margin compared to traditional methods of healthcare standards.

Migration, Data Entry, and Extraction with RPA Services in Healthcare

The healthcare industry relies on traditional paper-based records since most organizations have several divisions that depend significantly on paper documentation. Since a significant portion is dependent on paper documentation, healthcare practitioners and providers are progressively integrating the digitization of patient records. This helps them to save patient data electronically and be made available across online portals for other clinicians and practitioners to improve patient care services.

Automating healthcare processes to obtain data from previous systems and transferring them to the new modernized digital systems is only possible through RPA services in healthcare. When data migration is required to reach different goals and outcomes, like healthcare research, RPA bots can take over data migration processes to optimize the existing workflow.

Once the clarity is there to understand the scope of robotic process automation in healthcare, it is imperative to know the benefits of this digital transformation.

Benefits of Robotic Process Automation in Healthcare
Robotic process automation in healthcare is considered a viable solution for medical organizations that are looking to serve more patients by improving their outcomes, hence significantly reducing expenditures or any frictions on the provider's side. Here's a detailed list of benefits of integrating RPA services in healthcare.
RPA services in healthcare facilitate
Care delivery processes through cost-efficient strategies.
Assigning monotonous tasks to bots can help healthcare organizations reduce labor-intensive work and lessen human errors stemming from the manual entry of patient data.
Integrating RPA bots are cost-efficient and it is easy to implement as it requires minimal to no extensive software customization adhering to your workflow.
Healthcare robotic process automation tools increase the knowledge regarding collaboration and sharing between several organizations involved in care delivery services.
Leveraging the benefits of RPA in healthcare, organizations in this field can perform labor-intensive tasks more efficiently while reducing any associated expenditures.
RPA in healthcare reduces healthcare administrative expenditures as well by automating healthcare processes that can be time and resource intensive.
Robotic automation process healthcare increases the processing speed like triage via automation protocols.
Healthcare process automation improves the data accuracy of healthcare tasks and reporting in a clinical environment by reducing human errors and ensuring consistent output and enabling organizational practices to be in place.
RPA in healthcare improves provider productivity by automating tasks that are not required for human intelligence and frees up resources to improve and focus on complex healthcare activities.
Robotic process automation in healthcare also improves patient experiences with consistent care delivery services for the accuracy of data decisions, reduces the overall cost of implementation, and improves the visibility of patient records across all healthcare channels.
Bottom Line,
Healthcare robotic process automation is an essential application in the field of medical research and studies. It is a requirement to advance in the field to improve patient care services. However, there are still organizations that are following the traditional and monotonous data input that is time-consuming and imparts inefficiencies. Hence, can be quite damaging for healthcare organizations.
A significant way to reduce and minimize risk is through automation in healthcare. With robotic process automation in healthcare, accuracy and time are extremely essential and RPA services help in avoiding medical inefficiencies and free up provider time to improve patient experiences. Even with RPA services in healthcare being one of the fastest-growing enterprise technology, only a short percentage of US healthcare providers are currently using this efficient technology.
A smarter healthcare version to reduce the implementation of traditional hospital software, robotic process automation helps medical organizations to improve patient experience and care delivery services while cost-effectively enhancing administrative costs.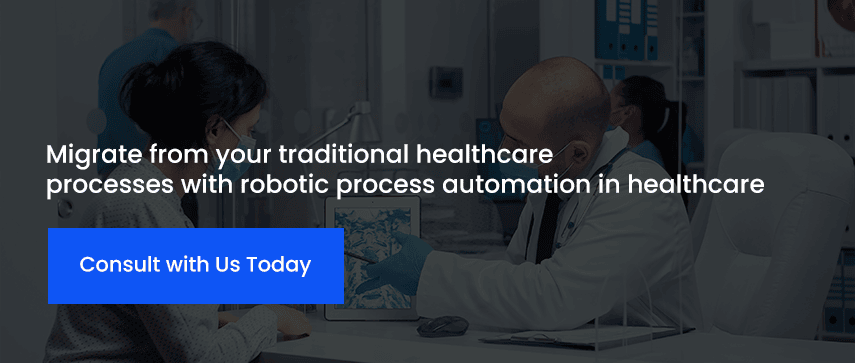 Author's Bio

Dr. Kedar has more than 12 years of experience in the healthcare domain. She advises Mobisoft Infotech in healthcare-related matters.