Stiff competition from rideshare and taxi booking apps like Ola, Uber, and Lyft has created serious challenges for the taxi and transportation industry. Thanks to their mobile apps, hailing a taxi is now just a tap away! Conventional taxi businesses are hence facing the harsh brunt as their customers are shifting towards these app-based cab hailing services which offer a much better cab booking experience.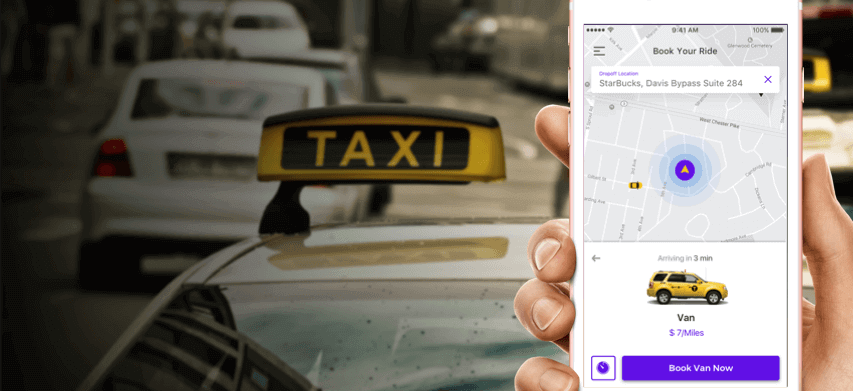 While many taxi and cab companies are still stuck with inefficient phone call bookings, competitors and aggregators are using real-time mobile booking channels. Statistics suggest that taxis lose at least $20 million on an everyday basis just because passengers are unable to find a cab.
'Call me a taxi', in the 21st century has changed to 'App a taxi'. The interaction between drivers and passengers are now virtual and everybody is looking for rapid mobility services. Investing in taxi app development to build a mobile booking channel is has become a critical business decision for taxi operators.
What is mandatory for the augmentation of any business is to embrace the new technologies. In the age of smartphones, not having a mobile booking channel will have a huge opportunity cost. Even in a small fleet of about twenty-five cars, a mobile app can take your business beyond the conventional. It helps the passengers connect in real-time with your fleet. Some of the advantages of having a mobile app for your taxi business can be enlisted as below:
Visibility
Having a whitelabel mobile app gives your taxi business a broad visibility and an automatic customer boost. For example, tourists commonly use search engines to find taxi services whenever on vacation. Most of them carry turn to their smartphones to find a taxi or cab. Therefore, taxi businesses that do not have a mobile app stand to lose out such customers.
Higher Profits
Many taxi operators and drivers who have worked with popular aggregator apps have complained about heavy commissions and declining perks. This is one of the reasons why many cab operators opt out of aggregator platforms in the long run. However, a taxi service provider can develop his or her own app and save on commissions paid to cab aggregators. They can also choose to work with cab aggregators and have their own mobile app for an omnichannel strategy.
Leverage Automation & Reduce Costs
By putting a taxi booking app in the hands of your customers and connecting them to your drivers in real-time via a driver dispatch app, your taxi business can smartly grow in autopilot mode. This offers a better booking experience for your customers by reducing ETAs and more, enhances driver performance and reduces the overhead costs generated by managing everything manually.
More Advantages
It is now possible to build your own taxi app with the added advantage of branding and customization by partnering with an expert taxi app development company. Taxi companies can get the app tailored to meet their specific business requirements with custom features and integrations.
The solutions to your dwindling taxi business lie in mobile devices. They have just thrown open the doors to modernizing your taxi business. Investing in a custom taxi company app would take your customers' taxi hiring experience to the next level. A basic taxi booking app has three factors: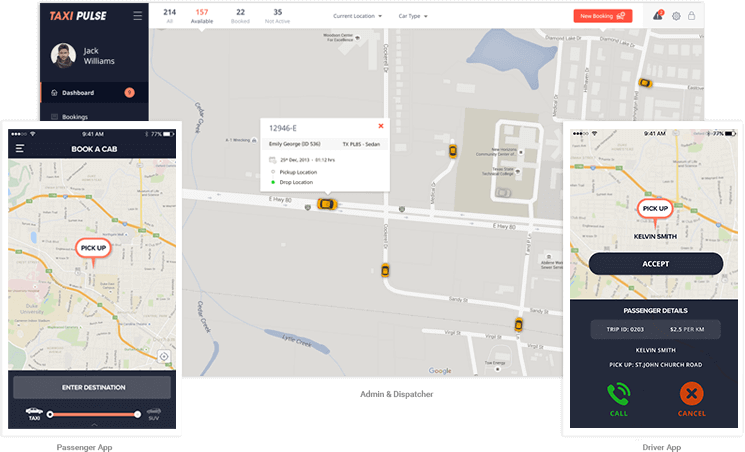 Passenger factor
Your customers download the app on their device, register and sign up. They see the drivers near their location and book a ride in a few taps. This gives a completely new dimension to book a taxi. In addition, an interactive map allows passengers to track the driver in real-time. There's more in-store. There are multiple payment options available like credit card and mobile wallets. No worry about change. You can simply travel around cashless.
Driver Factor
Drivers register, sign up and start getting trip requests almost immediately. The pickup confirmation takes less than a minute. The driver has an option to reject or accept a ride depending on his availability. Drivers can also be assigned advanced booking requests from customers. What's more? Real-time alerts are sent to both parties before the pickup.
Administration Factor
As a taxi business owner, you do not have to run around for nitty-gritty details. You simply have to access the master admin panel to manage your fleet and drivers. The drivers can be viewed and monitored on a real-time basis enabling efficient management. In addition, you can ask your customers to rate their driving experience, leave a feedback, view your drivers' driving history, etc.
Customers calling up to book taxis is an age-old method of taxi service. In the current times of mobility and internet, embracing the latest technologies for taxi booking is necessary so as to stay competitive and grow your business. Imagine this- a potential customer calls you for pickup, you confirm the booking, then send your taxi. The whole process would take at least fifteen minutes. You can't expect your customers to wait for long periods and then be happy with your service. This is an era of speed. Customers expect speedy and efficient delivery in the minimum time. Taxi booking and confirmation must therefore not take more than a minute. Else customers are lost by the minute. Here are some benefits you could have thanks to a taxi mobile app: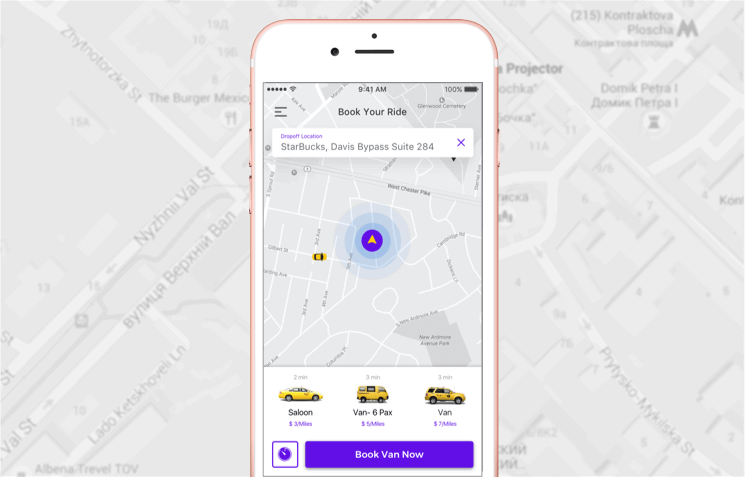 Driver Efficiency
Driver productivity and efficiency must be measured and managed. Traditional taxi-hailing services do not have room for feedback. Therefore, passenger's riding experience is not taken into account. If a passenger had a bad ride, fare issue there is no way you could detect the same. In taxi company app you can actually monitor the driver's performance, productivity, and what's more- your passengers can even leave feedback on the ride. This is transparency at its best. Further, your drivers may spend a lot of idle time on the roads looking for passengers. Using an app simply optimizes this. An idle driver near a particular location can be tracked and be directed towards the nearest pickup request- all in a matter of few minutes. Therefore, drivers are optimally used and passengers are not forced to wait for several minutes.
Feedback
The rating and feedback system is the best thing in a taxi booking app. In case of conventional systems, there is little room for feedback. Hence no matter how good your service would be, the customers outside are not aware of it since they cannot see your ratings. Also, a small discomfort in the journey can put your reputation at stake. Apps leave no room for such things. Immediate reporting of the problem goes a long way in resolving customer issues. This also puts you in a good light in front of the passengers.
Real-Time Connectivity
The drivers due for pickup must be aware of their passenger's exact pick-up locations like airports, railway stations, etc. With real-time connectivity through maps, drivers and passengers are aware of each other's exact location making the pickup much more seamless. Outdated technology does not allow room for this real-time connectivity. This means a huge opportunity being missed out and additional woe on your business.
Customer Satisfaction
This goes without saying that the booking experience through a taxi booking app will be much more intuitive and faster for customers than having to call your office and go through the painful booking flow. The popularity and adoption of ride-hailing apps across the world is a testament to the superior user experience offered by a mobile app over the older methods to get a taxi at one's doorsteps.
How much does a taxi app development solution costs?
A typical taxi app solution consists of branded taxi booking apps for customers, booking apps for drivers and a power web-based admin panel to manage the operations. Coming to the big question – how much does all this cost? Well, it depends! There are multiple factors that have to be factored in. The design costs, the choice of platforms, the functionality and features to be added, the complexity of these features, the customization and branding requirements, custom integrations and many more. We encourage you to talk to our taxi app solution experts to get a quote as per your business requirements.
In a nutshell, a whitelabel taxi app would:
Enhance customer experience by reducing booking time.
Reduce the operational costs.
Streamline the business operations.
Improve driver productivity and revenues.
If you are a taxi company looking to overhaul your business with a taxi company app, do check out our taxi app development solution. We offer a fully branded and customizable taxi app solution with native iOS & Android apps for your customers and drivers and a powerful web-based administrative panel to seamlessly manage your fleet operations and grow your taxi business. Our taxi solution experts team will work closely with you to deliver a customized solution for your taxi business.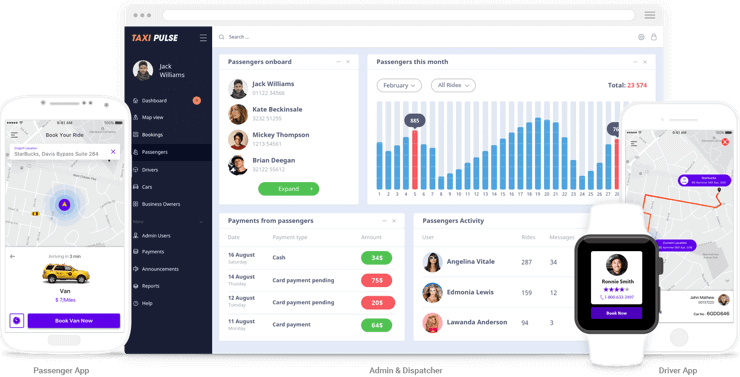 Author's Bio

Nitin Lahoti is the Co-Founder and Director at Mobisoft Infotech. He has 15 years of experience in Design, Business Development and Startups. His expertise is in Product Ideation, UX/UI design, Startup consulting and mentoring. He prefers business readings and loves traveling.